I have never been to Miami. The closest I come to being there is watching an episode of Burn Notice or the Golden Girls; or watching the Miami Dolphins on television. So when the opportunity arises to watch the Dolphins in person, I want to take advantage of that, even if it's just a preseason game. A very good friend of mine ordered some tickets and off to the game we went.

Our seats were great, and possibly the best seats I've ever had to any event in my entire life (I had some great tickets to a Def Leppard concert once, but I still think this was better). The game was fun and I enjoyed it immensely! However, being the nerd I am, and the phinsider-aholic I am, I knew I would have to make a post of what I saw and break it down for everyone. I also tried my best to make like Ohiofinfan4life and take a ton of pictures, which I will share for the site. My seats afforded me a great opportunity for good photos, and even allowed me to get a high five from rookie wide receiver B.J. Cunningham (I now think he should make the team for this reason alone). But before the pics, let's look at some analysis. I went back and watched the game on DVR before writing this up. I wanted to re-watch things I may have missed live.

OFFENSE

Ryan Tannehill

Football is the ultimate team game and I felt it necessary to approach the offense analysis in the same manner. To be exact, I don't want to analyze the play of Ryan Tannehill, without putting it in the perspective of the watching the entire offense work. Football is a unique game in that the televised product doesn't convey everything you would see watching the live product. In a basketball game, what you see is what you get. All the action happens in the camera frame and doesn't really deviate from what you would see in person. In football, much of the action that determines how a play turns out, happens outside of the view of the camera. I feel this is very important because the "TV version" of Tannehill doesn't seem to match what I saw live. Much like his misleading stat line (11-23, 100 yards), Tannehill's play on screen was misleading. On TV, Tannehill looked nervous and even overwhelmed at times . Watching him LIVE, I saw a player trying too hard to impress him coaches at first, but never looked out of control and he never looked like the moment was too big for him. The first two drives, Tannehill was visibly nervous/excited/antsy. You could see it as he walked on and off the field. And really, that's to be expected. Who wouldn't want to try their hardest to justify the coaches' faith in him? After that, he calmed down, and thus his play improved. He always seemed to be in control of the offense and he "made it his own". This was HIS team and that showed up BIG time. I saw his poise leading the offense, which we haven't seen from a quarterback in Miami since Pennington. That's what I I saw from him in person.

But while his play improved, the offense didn't. Tannehill was really let down by his teammates, with dropped passes, poor blocking, and complete lack of running game (more on that later). Let's delve into the stats. He was 11-23. That's 48% completion percentage. Sounds terrible right? Not so much when you look into it. He had four tipped passes. That is concerning, but only one of those was due to staring down his receiver (the first one - he stared down Fasano the whole time). The other tips were nothing out of the ordinary, and one was simply a great play by Kuechly which could and should be considered a pass defensed instead of a tip. He had four dropped passes. Three of those passes were EXTREMELY catchable Only the last one to

Marlon Moore

was a difficult catch. But they were all catchable and should have been caught. He had a throwaway to escape pressure. He had a spike to stop the clock (which shouldn't really be considered a 'real' pass in my opinion, but it is what it is). Add that up and that's 10 incompletions. Even if you still count the tips, Tannehill would have had a stat line of 17-23 and of course more yards.

By my count, Tannehill had a grand total of four bad passes. These are passes that were bad throws, poor decisions, or a combination of the two. The first bad pass was his first overall pass. He stared down

Anthony Fasano

the whole time and

Charles Johnson

stuck his arm up and deflected the pass. It should be noted that Johnson was in Tannehill's face at the time, due to poor blocking. The second bad pass was a designed rollout and late throw to

Roberto Wallace

. Wallace comes open for a moment as Tannehill is moving right. Tannehill doesn't see him immediately and waits just a second too long to throw the pass, It allows the DB to close on Wallace at the sideline and tip the pass. Tannehill may not have seen Wallace because a linebacker was obscuring his view, but the pass was still late. The next bad throw was three plays later. At the snap, Tannehill looks to throw to Wallace on a slant on what appears to be a one-step drop. However, the defensive end is standing in the way in a zone defense or something (he's not rushing). Tannehill pulls the ball down and rolls right. The DE then charges and Tannehill is forced to throw on the run and the ball is just outside the reach of a diving Wallace, as he was breaking back out toward the sideline. When I first saw the play, I though Wallace slipped or didn't react quick enough. However, upon further review, Wallace makes the right decision and is open, but Tannehill's pass was errant. Perhaps the DE's presence altered the trajectory Tannehill needed, but from what I saw, it looked like Tannehill had the room and just missed the pass.

The fourth bad pass was more of a bad decision than a bad throw. It was Tannehill's next to last pass attempt of the game. After seeing the replay on TV, I must say it was both equally scary and equally impressive in person. At the snap he locates Marlon Moore down the seam and throws a bullet to him… in triple coverage. As the ball arrives, the corner was to the left of Moore and the safety was closing from the right. There was a linebacker in the vicinity. Dangerous pass in that type of coverage. However, as I freeze frame the moment when the ball arrives, it is clear that the ball hits Moore in the hands, while the two DBs were still behind Moore. They may have knocked the ball out of his hands or whatever, but he could have secured the pass. In any case, it was an ELITE throw with great velocity and pinpoint accuracy. If the timing or ball placement is off by just a fraction, the pass is picked off or best case, knocked down. It was the perfect throw for that particular instance. It was a throw that only the most elite of QBs would attempt. Had it been completed, it would have a highlight moment for Tannehill. But while the throw was good, the decision was not. I know Tannehill was more than likely just trying to make something happen with 25 second left in the half. But anything less than a perfect throw there is a disaster.

I think this particular moment encapsulates everything we need to know about Tannehill at this point. He is a player with lots of talent who has all the tools to be a franchise quarterback. He is extremely confident in his skills and his arm and that throw shows it. That throw also shows he has the tools to make it happen. That throw shows that he needs seasoning and more experience to make better decisions, despite his skills.

To wrap up the Tannehill segment, I think it is inaccurate to say Tannehill looked bad in this outing. He wasn't perfect, but he wasn't the reason our offense looked so bad. He looked like a rookie and that's just fine. He looks like a rookie with TONS of promise that can actually be realized and may get there sooner than expected. He needs some help though.

Receivers: Trade for

Dwayne Bowe

NOW!

There are two pass catchers on this team that I would trust to get open any time they want:

Davone Bess

and Anthony Fasano. Everyone else… yeah, not so much (Hartline might be included, but he's injured). As Ireland said in Hard Knocks, we have a bunch of "fours, fives, and sixes." While Bess should get his this season, everyone else we have on the roster leaves something to be desired. Roberto Wallace and

Legedu Naanee

have size and speed. Marlon Moore and

Julius Pruitt

have shiftiness and quickness. But NONE of them can get open consistently. This is where the "watching live" stuff comes in handy. While it is easy to say Tannehill needs to play quicker or make better decisions, what most people don't see is the fact that he doesn't have anyone to throw to. He was doing the best with what he had… and that's not much. Forget what you saw on Hard Knocks about "ankle weights" Wallace; that applies to all the receivers on the roster not named Bess. I specifically watched our receivers during this game and they need help. It's really not going to matter who our QB is when they don't have people to throw it to. And before anyone sarcastically throws out the "well I thought Philbin's offense doesn't have a #1 WR" argument, that principle still applies. There isn't going to be one WR who gets a majority of the targets (the #1 WR thing). However, there does need to be WRs that can get open consistently. Right now, we don't have that. We have potential, but that's it right now.

In my opinion, we need to ATTEMPT to trade for Dwayne Bowe (

Mike Wallace

is not, nor was not ever available. Forget him. He's not even a true #1 type WR anyway). Bowe has the ability to get open at will and would make life easier for our QB. Despite signing his franchise tender, he and the

Chiefs

may not be on the best terms and with

Jonathan Baldwin

as a contingency plan, the Chiefs MIGHT be willing to part with Bowe rather than pay him. I'm not saying Bowe is truly available, but Jeff Ireland needs to AT LEAST try. The worst that could happen is that the Chiefs say no. If not, we will be looking at wide receivers early next year. For college football fans, here are some names to watch: Robert Woods, Keenan Allen, Marquess Wilson , Da'Rick Rogers, Justin Hunter, Terrance Williams, and stay tuned for other names as college football gets started. We need some prime time talent at the WR position.

The one wildcard here is

Clyde Gates

. Of all the WRs not named Bess, Gates was the only one I saw that had the footwork and quickness to get open whenever he wants to. He needs work in other areas, but has the ability to get open regularly. He might be worth hanging on to. I also found it interesting that

Jeff Fuller

got some work with the ones during the first half.

Offensive Line

Once again, the left side is pretty sure while the right side is terrible.

Jonathan Martin

needs some serious work. He was consistently beaten by Charles Johnson, although Johnson is one of the better LEs in the league. Johnson is not a speed rusher, but still exploded by Martin with ease at times. Martin is a smart and talented player. He gets a little bit of a pass because he's a rookie playing a new position, though moving from LT to RT isn't all that difficult. He will get there, but he isn't close right now. But he needs to work hard if he wants to keep Tannehill upright this season.

Artis Hicks

is pretty much just "meh". He doesn't stand out in any particular way. As a RG, that's ok (lowest positional value). However, it would be nice to get the right side finally locked down, and for that we need a solid RG. One name to watch out for is

Josh Samuda

. He is playing very well right now and likely will make the roster. The undrafted guard from UMass has been excelling at backup center, despite never playing that position before. He is very athletic and plays well getting to the second level. It's not out of the realm of possibly to see him get moved to RG and challenge Hicks for the starting job at some point this season.

Quarterbacks

I've discussed Tannehill in depth, so I won't rehash that again. All I will say is while his night wasn't great, he still outplayed Moore. Moore went 5-15 against backups. That won't cut it. While he also had to throw to bad receivers, he struggled with decision making and his lack of field vision is still apparent. The play that exemplified that is a play in the fourth quarter. He held the ball too long, was forced from the pocket, and threw the ball away. He completely missed

Rishard Matthews

coming WIDE open across the middle of the field. Wouldn't have been a huge gain, but he still never saw him. Devlin look ok in his work against the threes. Right now, Tannehill is starter and I think he should be the starter (though it might be better to wait until we can surround him with more talent, but that's neither here nor there).

Running Game

Non-existent… look that phrase up in the dictionary and you will see a blurb about the Dolphins rushing attack attached to it. What was once a strength in the Sparano years, has now disappeared entirely. Granted, Sparano's teams were built to run often and run with power. But it shouldn't have disappeared like it has in the past two games. One thing to blame is the quarterback and receiver battle. So much focus has been on those aspects of the offense, that the run offense has been pushed aside. But the times we have seen it, it has looked, well… bad. Holes are closing too fast, blocks aren't being held long enough, backs aren't making the most of the opportunities… it's just bad right now. That's yet ANOTHER thing that hurts Tannehill. Teams can drop back and play the passing lanes because they don't fear the run. This needs to get worked out soon and very soon. Our running game is going to have to play a major factor this season, if our offense hopes to be successful.

DEFENSEFront Seven

Overall, the defense was disappointing. They were a sieve for most of the night. However, there is one major caveat: three of our starters, some of our best players, didn't play. That is an important factor because the

Panthers

were able to take advantage of the backups. They consistently beat us across the middle with tight ends, crossing routes by WRs, beat us down the seam, and ran against us with ease. One has to wonder if that would have happened with Burnett and Dansby playing. There are still some reasons to be concerned, but I would like to think that defense would play better with ALL of the starters. There was NO pressure generated by the DEs. Wake would have generated some pressure because that's what he does. But the lack of pressure from Odrick and Vernon was a concern. Soliai and Starks generated some pressure and generally held the middle of the field. That will tighten up by the time the regular season starts. The linebackers weren't great, but they are backups. I will wait to see what they starters can do before getting bent out of shape. If Guyton and Trusnik are your starters, you aren't going to win many games anyway.

Derrick Shelby

… welcome to the Dolphins. His name has been coming up as a camp surprise and he showed why in this game. He finished with 4 tackles, with a sack and 2 tackles for loss. He looks to be a lock for the 53 man roster now. He still needs some development as I saw him get locked up several times by the tackles and needs to work on disengaging in those situations (hand usage and whatnot). However, the kid has a knack for making a play and could be a player that in a season or two, might earn his spot in the starting lineup.

Secondary:

Sean Smith

is Taking the Next Step

The secondary is questionable in the back end. Jones didn't play bad, but didn't stand out either. Clemons is completely replaceable. He had the forced fumble against Tolbert, but always seemed to getting beat in coverage. Marshall got beat once, but played well overall. Davis got in the fight that Steve Smith started and he needs to be smarter than that. He had good coverage most times and I trust that he will get out of the doghouse soon. He will come around. Smith, however, looks like he is making the move into the upper echelon of cornerbacks. He wasn't challenged very much in this game which is a great sign. The one play that stands out is the interception that wasn't. First of all, Steve Smith is a great receiver. He has good downfield speed and is very hard to cover. Smith stays with him step for step. That in and of itself, was impressive to me, especially for Sean Smith who is not known for great speed. If there WAS any pass interference on that play, it happened 20 to 30 yards up field as Smith got away with a slight hold, but wasn't called. Smith turned to play the ball and he and Steve Smith had some contact that would more than likely been a no-call with a regular NFL ref (slight contact is allowed if the defender is playing the ball, which Smith was, and the contact didn't impede Steve Smith's motion). Getting knocked for being unable to come up with interceptions in his career, he comes down with a pick that great corners make and that's with Steve Smith hanging all over him. It was a great play and I expect him to make more plays like that. Our corners are in good shape, IF Davis steps it up. If he steps it up like he did in the second half of 2011, the Dolphins will be fine at that position.

SPECIAL TEAMS

DC$… check. Fields and his booming punts… check. Dynamic kick returner… check? I say yes.

Marcus Thigpen

was impressive. He was explosive and showed good speed as a returner. Throw in his contributions as a receiver, he looked very good. It's going to take more than one game to lock him on the roster. But if he keeps up that kind of play, he'll make it on the team. I don't recall the punt return unit since the Panthers only punted a couple of times (terrible). The coverage units were very good, even without special teams standout Julius Pruitt playing. The Panthers were never able to get a good return without holding involved. There were great tackles by Rishard Matthews and

Chris Hogan

, which 7/11's tackle was inside the 10 on a kickoff return! If the Dolphins plan on being successful this year, the defense will have to carry the load until the offense catches up, if it ever does. Part of that success will be getting favorable field position and our special teams are a key part of that.

And now finally… THE PICTURES!My Sign that I hope gets on Hard Knocks (Sorry the photo got cut off).
A Beautiful Evening in Charlotte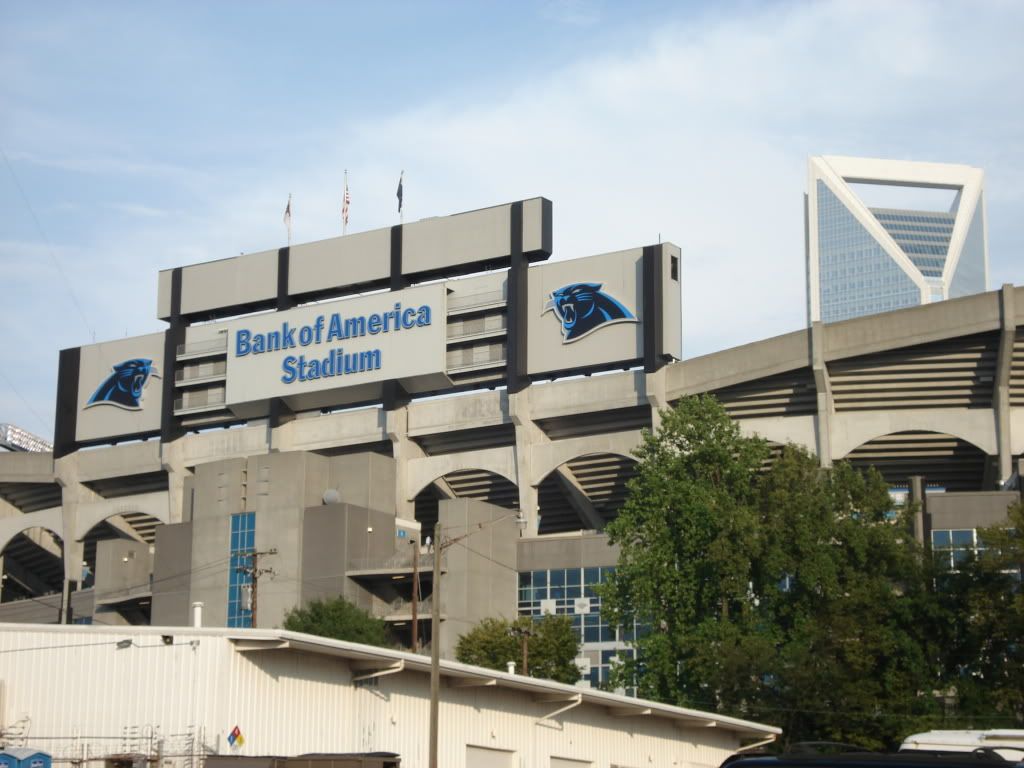 PRE-GAME STUFF
Clyde Gates catching a pass/Brandon Fields warming up

Quarterbacks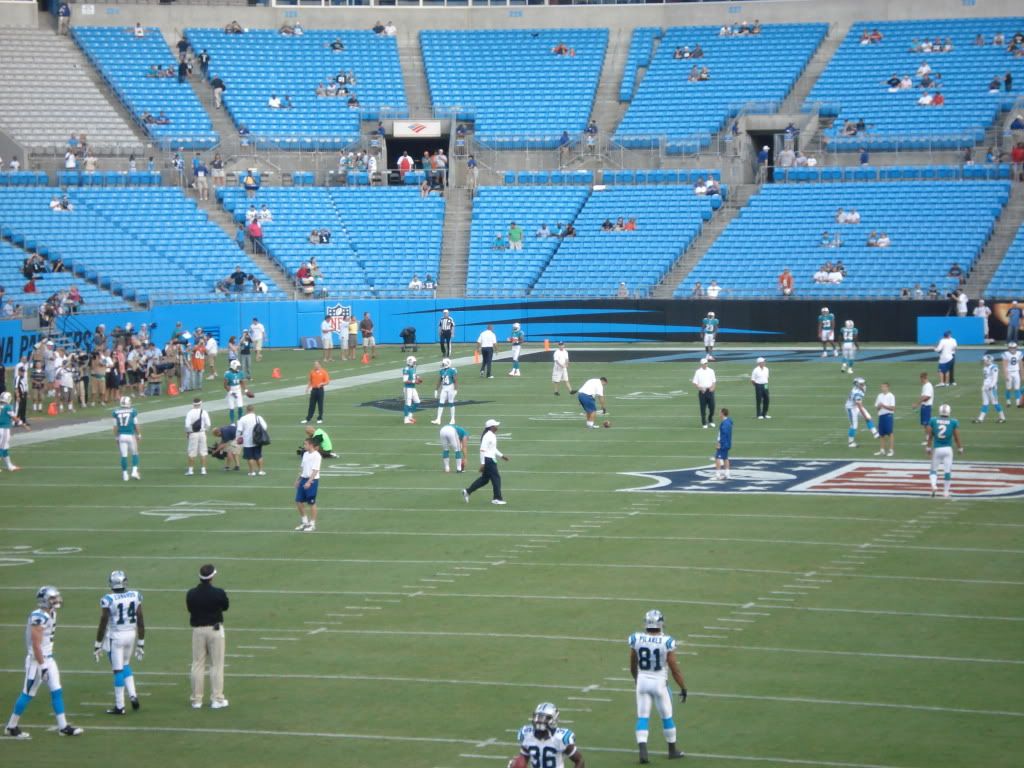 Mike "I Would Cut You Right Now" Sherman
Marcus Thigpen, Rishard Matthews, and Quinten Lawrence working on returns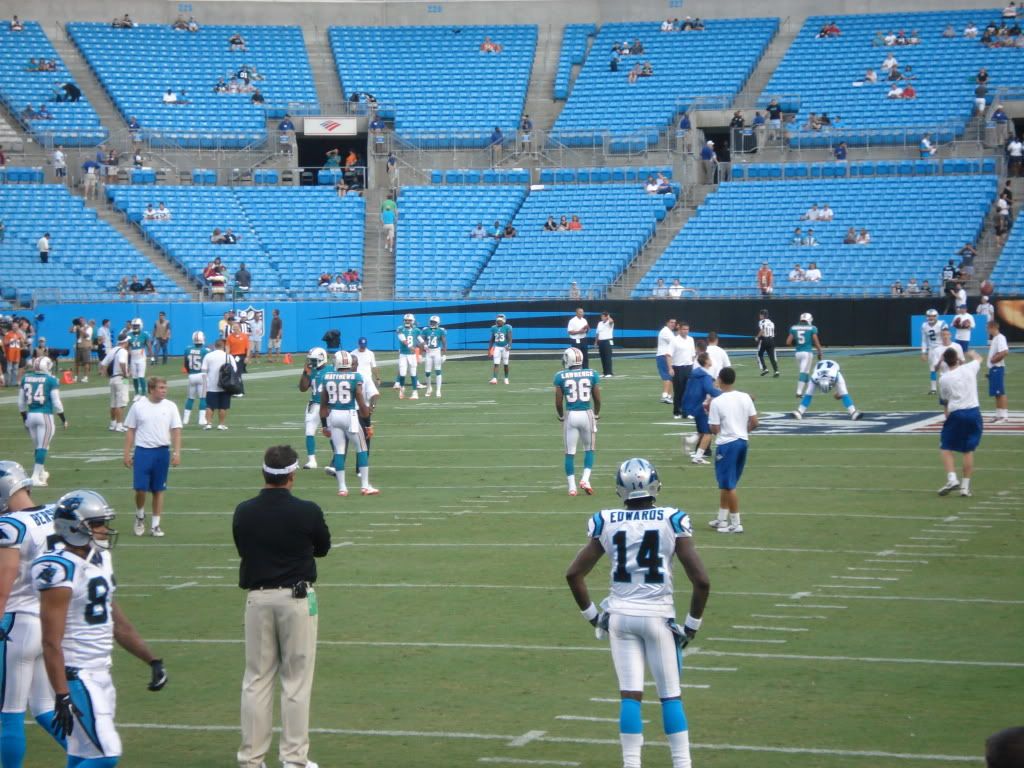 Players running out of the tunnel (for warmups, not the game)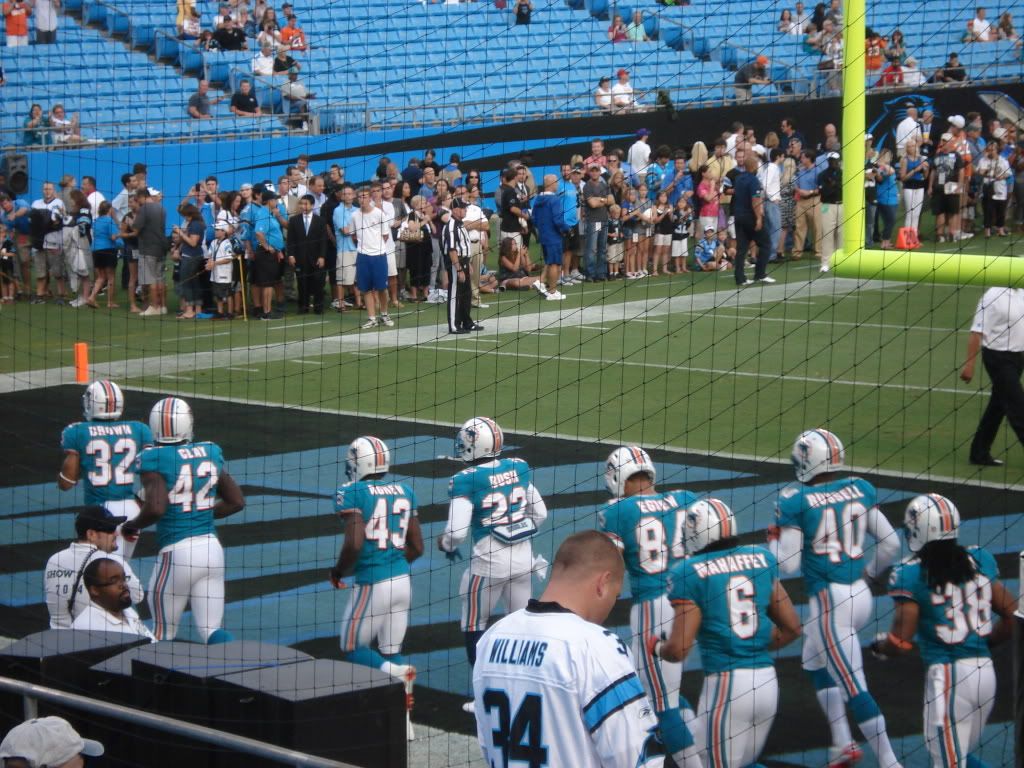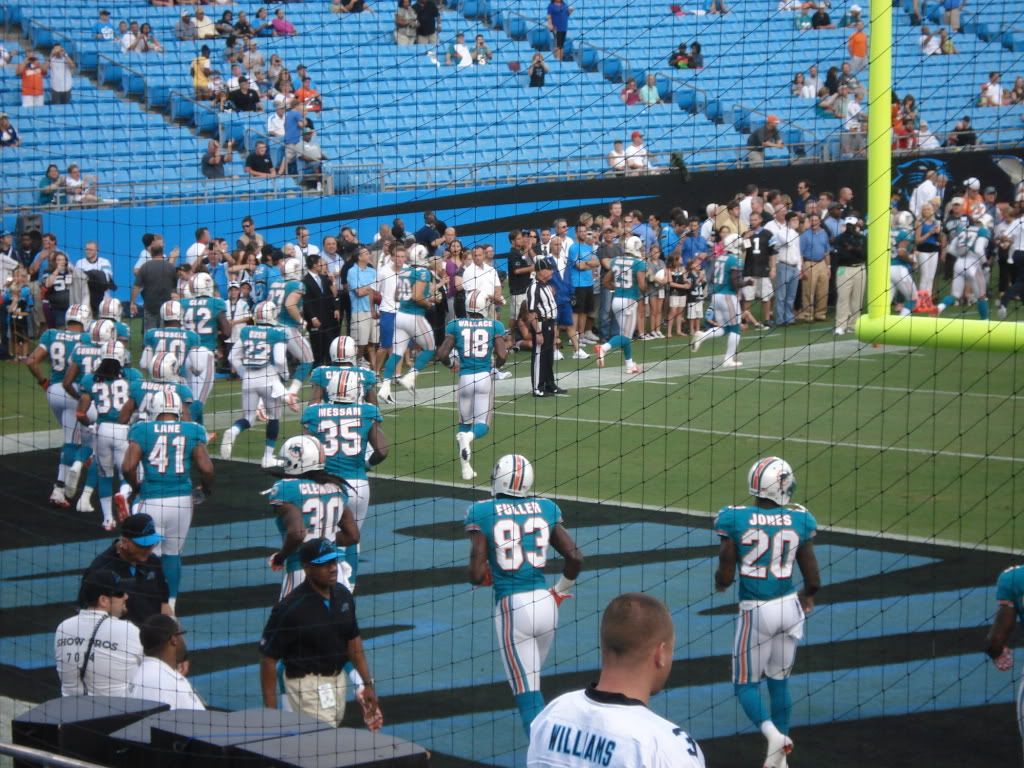 Large Humans Running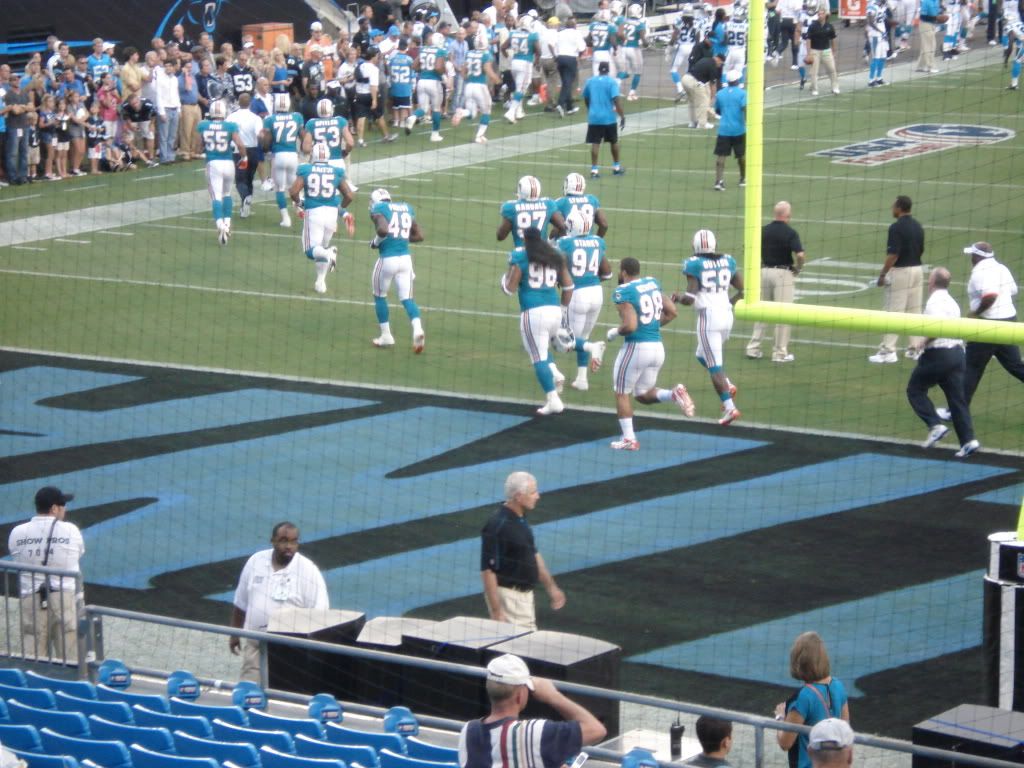 Team Huddle
Team Stretchs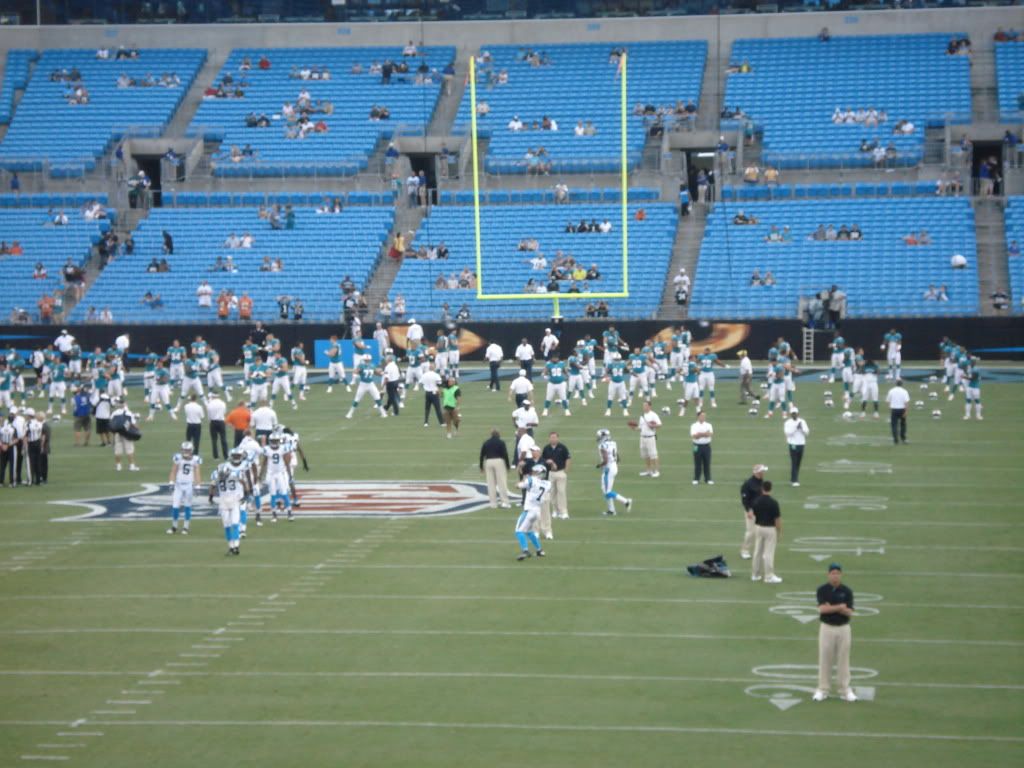 Back to the Locker Room for Pre-Game Speech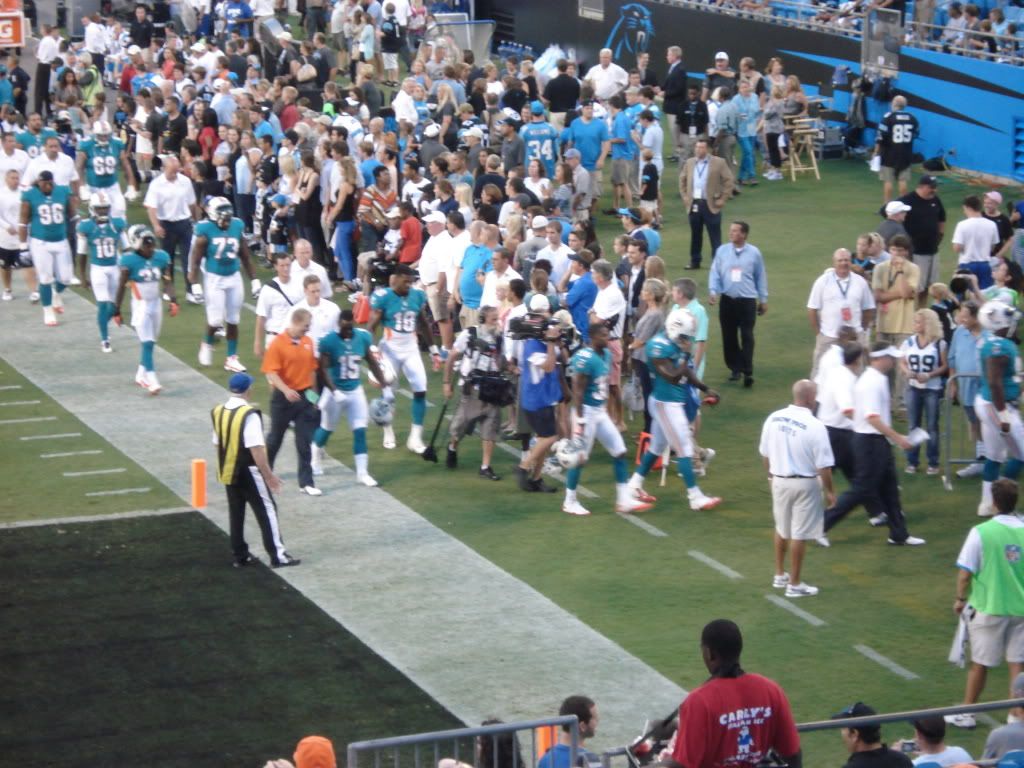 Introduction of the Miami Dolphins

GAME TIME!!!
Kickoff!
Defense Giving Up a Big Play (sigh)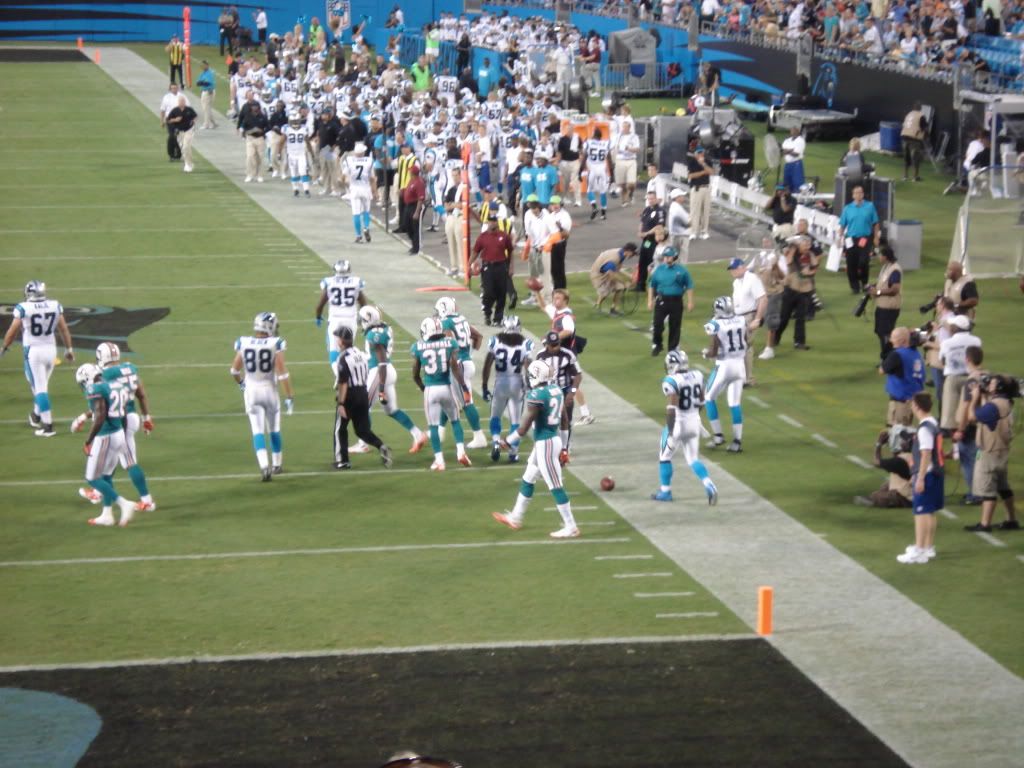 Roberto Wallace lined up against Chris Gamble
Ryan Tannehill in action
Vontae Davis after the 'incident'
Defense giving up an early score (SIGH)!


Matt Moore in 3rd quarter action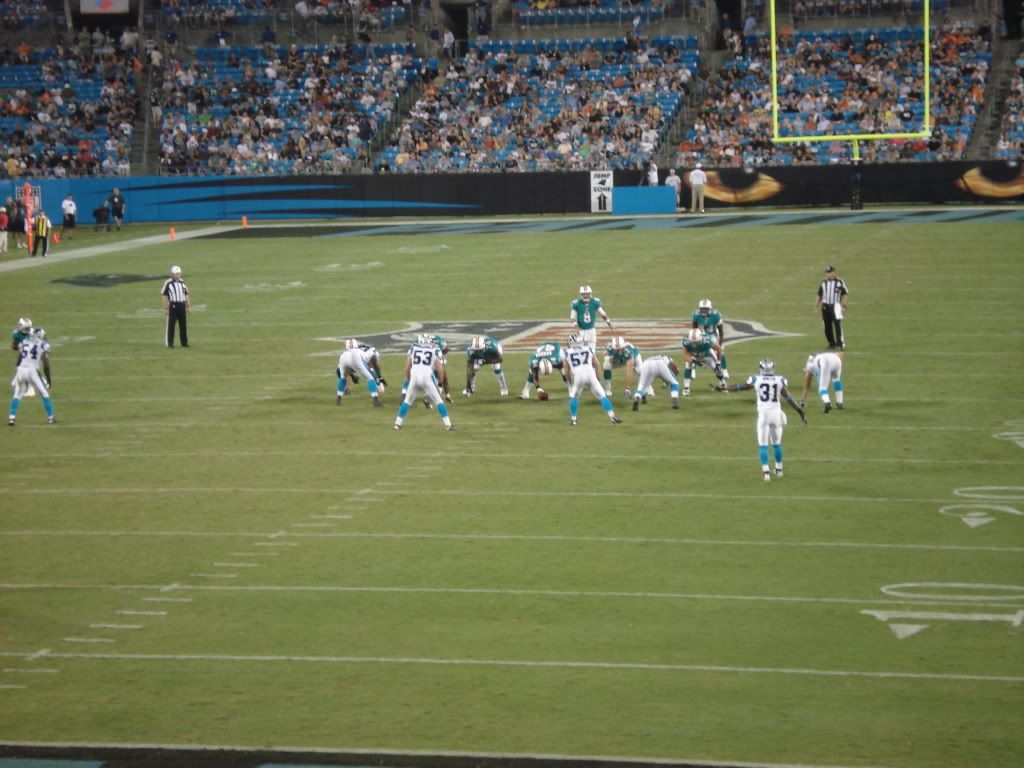 Charles Clay ALMOST had that pass...
DC$ launching a 52 yard blast! (If you look closely, you can see the ball)
Rishard Matthews looking to return a punt late in the game(I moved closer to the field at this point)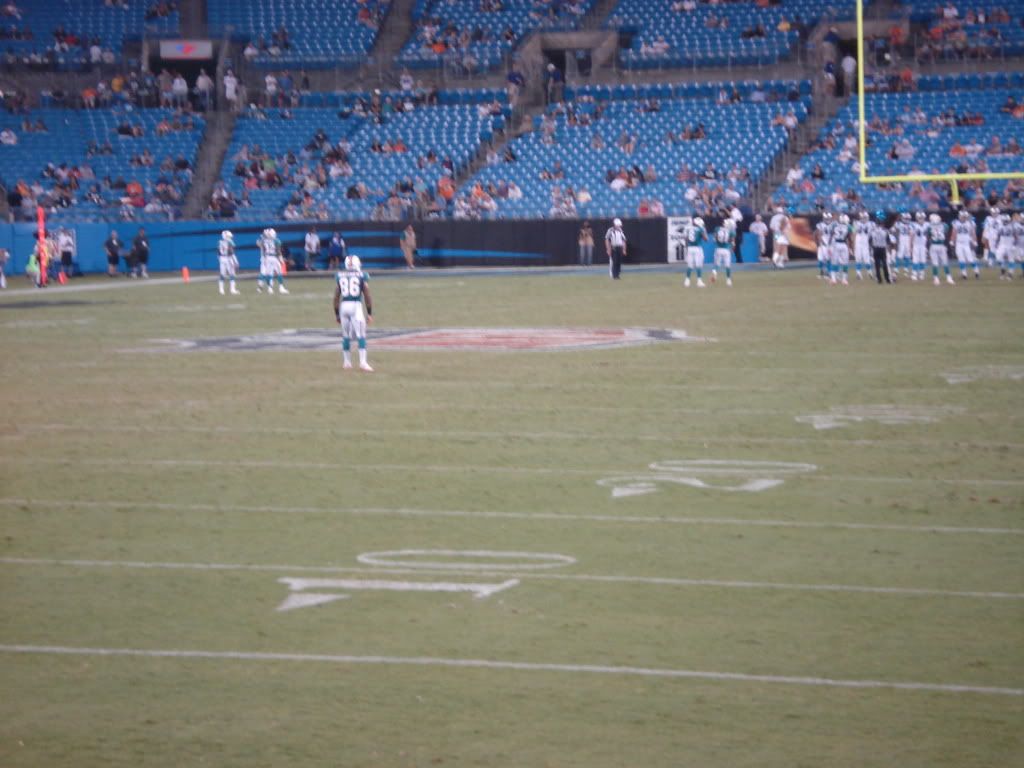 I told you I was close!
Pat Devlin trying to work some late game magic (but alas, he came up short)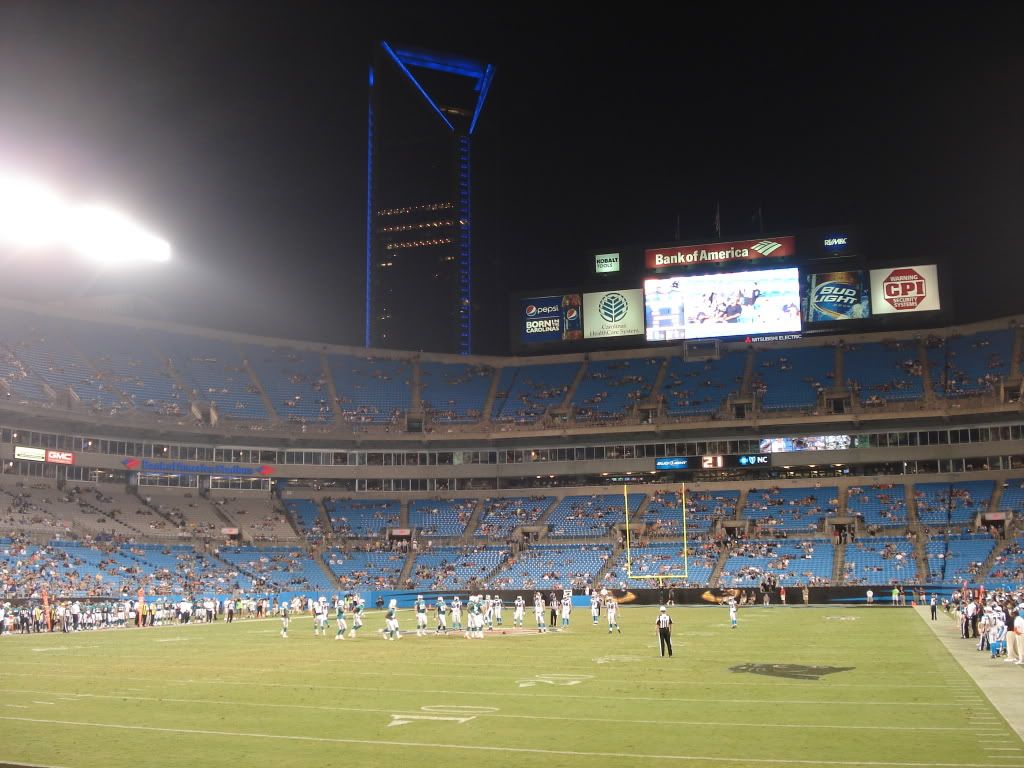 GAME OVER!!! PLAYERS RUNNING BACK INTO THE LOCKER ROOM
Our starting safeties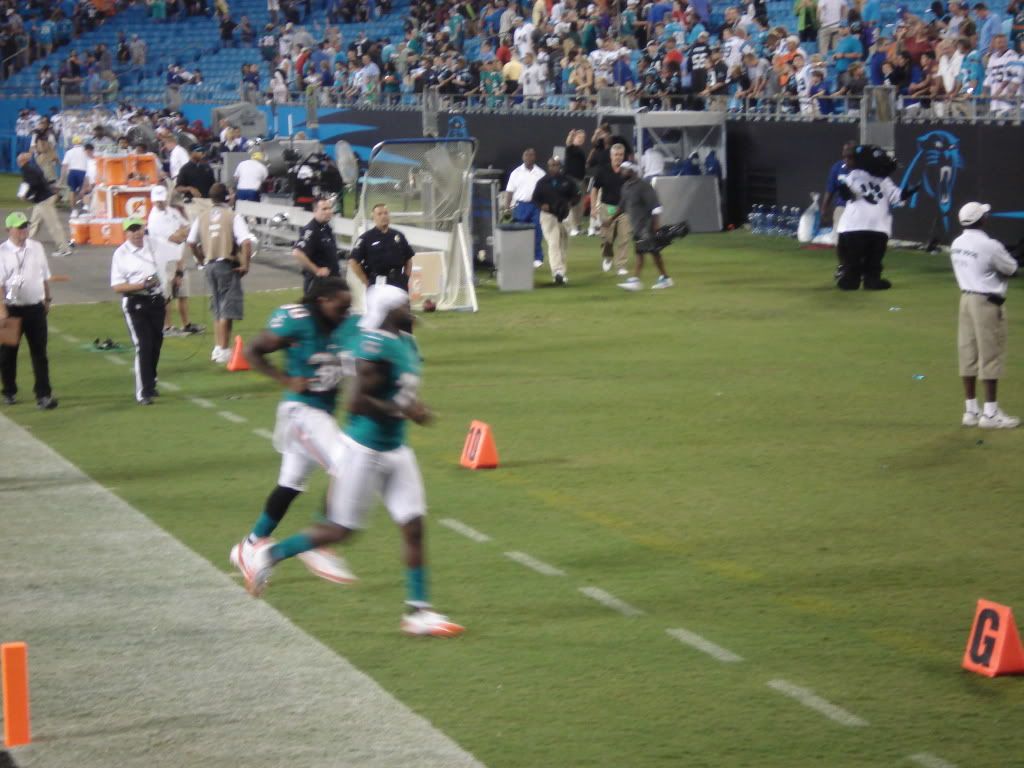 Koa Misi, Paul Soliai and John Jerry (Brandon Fields and Les Brown off in the distance)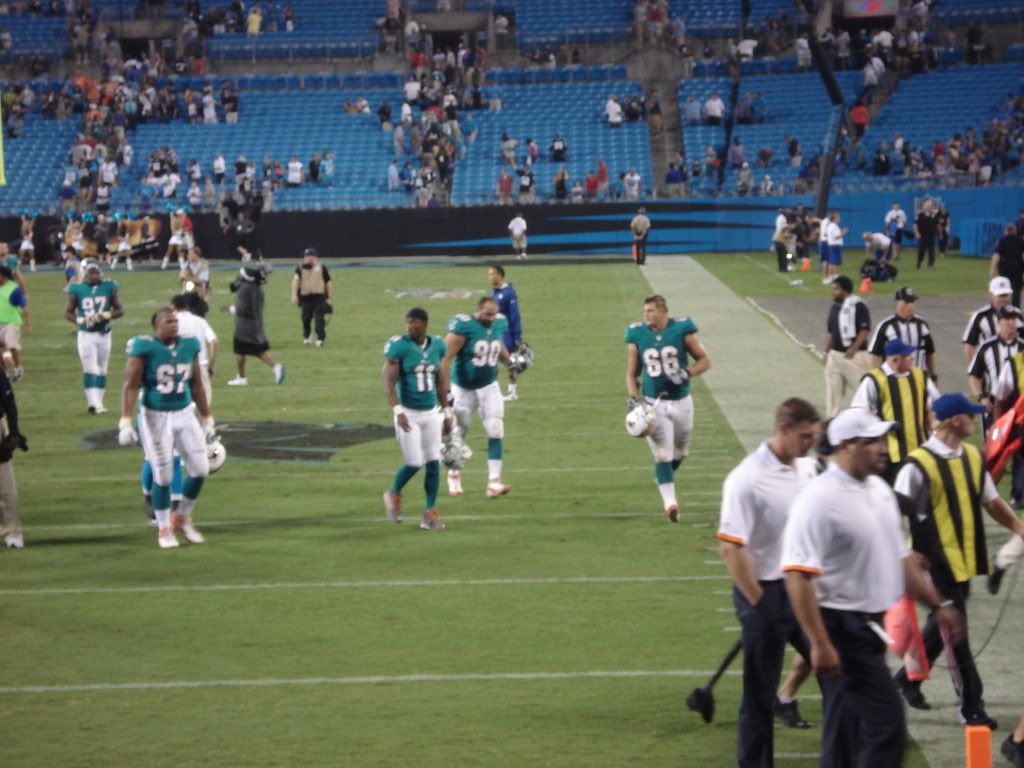 Vontae Davis and Richard Marshall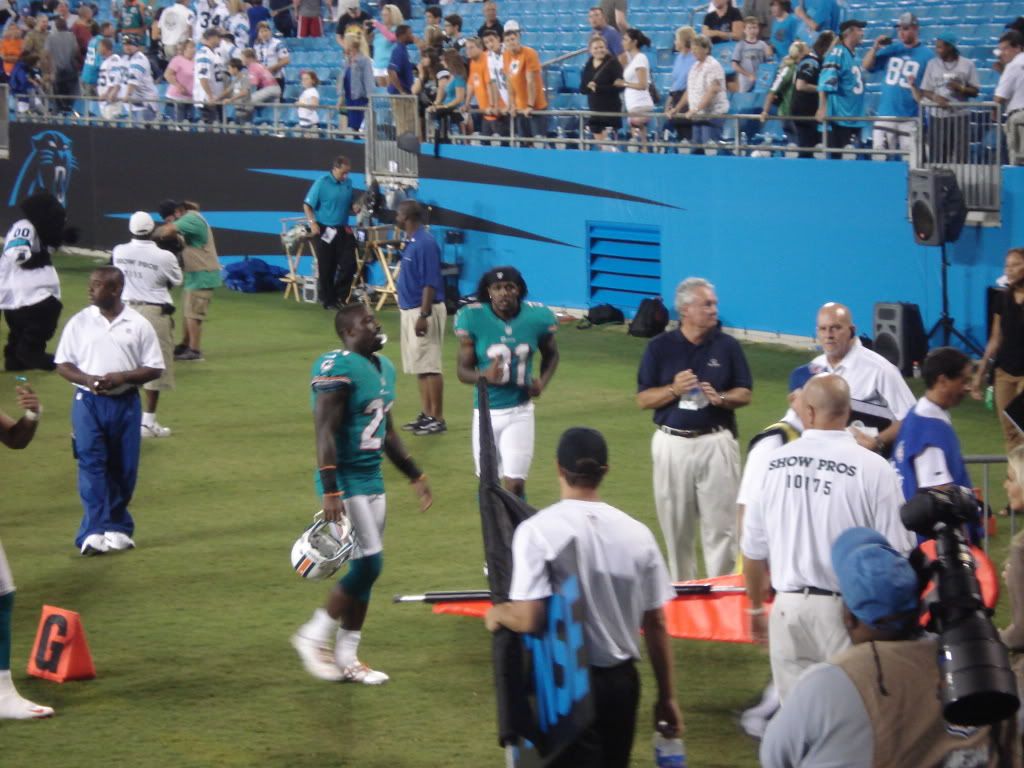 Daniel Thomas
Les Brown
Jared Odrick
Ryan Tannehill (Sorry this is so blurry, but he was hustling to the locker room. I could have gotten a better pic, but I was too busy trying to get his attention.)
Steve Slaton and Olivier Vernon
Sean Smith (hustling to the locker room too)
HIGHLIGHT OF THE NIGHT: This is rookie B.J. Cunningham... right after he gave me five. Some guy standing next to me was yelling at him. Apparently Cunningham recognized him or something. Cunningham ran over to talk to him. I reached down and he gave me five. Too freakin' cool!