Well, since I had a bit of time (some would call it procrastination...), I thought I would work on another one of these posts. I am not sure I am adding any new information regarding Jonathan Martin. All I can say is he seems fine, just like last week. And, of course, that these are preseason games, and shouldn't be taken too seriously. I know some will talk about his strength and how he looks out there, but, the bottom line is he does his job… mostly. As we shall see, if my analysis is correct, he was able to handle his pass protection decently well. He handles speed rushes with relative ease (which is no different than last season) and somehow manages with the rest. His run blocking, this game, had some holes in it, but overall he had some solid run blocking.
I also want to thank you in advance for helping me with these posts. I am not a football expert, and I don't understand all the ins and outs of what I am seeing. Part of the reason I do these posts is to practice watching carefully, and to get some feedback from members here at thephinsiders.com who can offer constructive criticism from the terms I use to analysis of the plays. Thanks again. [Also, I apologize in advance that these images aren't as good as last time. The camera work in the game, frankly, was worse]
1)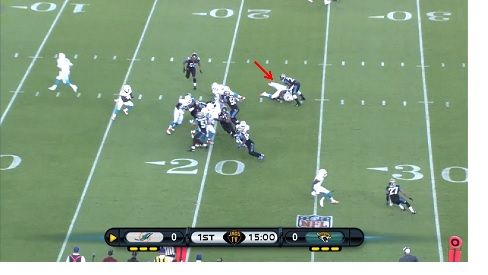 1st down – Miller runs right for 5 yards
Martin cut blocks S Dwight Lowery, who was essentially lined up as an LB. Miller is brought down by both the LB Allen and Lowery. Allen is able to shake off Pouncey's block eventually, and Lowery who was forced to evade Martin's cut block gets back upfield, and the two stop Miller from getting any more yards. Overall, it was a decent play for 5 yards. While Lowery keeps his feet, the cut blocking forces him to back up. Otherwise, lowery would have hit the hole much sooner, and would have cut the run short by a few yards. [I would love an explanation as to why Tackles would cut block LBs and Ss. I was guessing that it might have something to do with the relative speed and agility of smaller players. Also, is the fact that this is at the back end of the play part of why cut blocking is more useful?]
2)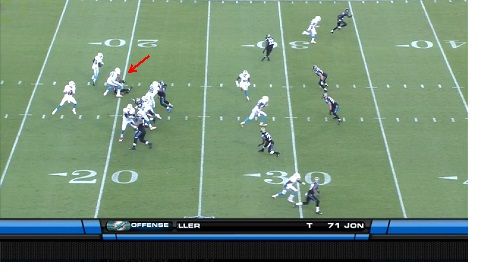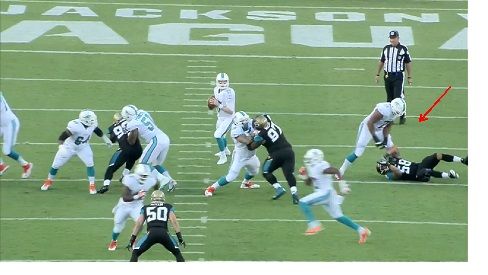 2nd Down: Sack Martin takes on Babin, who tries a spin move on him and winds up on the ground. I really would love to credit Martin with a pancake here, but, it looks to me like Babin slipped. In either case, was in good position.
3)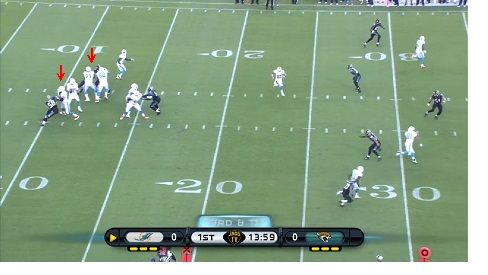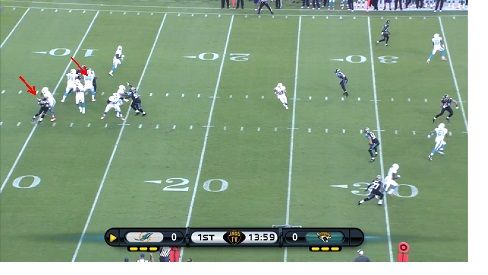 3rd down: Tannehill run for a short gain (almost a sack)
It is for plays like this where I wish I knew more about football. I will tell you what I think I see, and I would love corrections. Tannehill lines up in the Shotgun, and takes a 3 step drop. When he finishes his drop, he is already feeling squeezed at the backend of the pocket (first pic: arrows show the OTs). Babin rushes Clabo into Tannehill, and he doesn't have much room to throw. Martin gives him room, but Tanehill steps up in the pocket, leading to pic 2. Martin is still keeping the pocket clean, but two things happen. 1) Incognito begins to be pushed back, collapsing the pocket on the side (not sure how much this impacted the play, but it might have) and 2) Babin does a quick (successful!) spin out of Clabo's clutches and is primed to hit the QB. Samuda and Pouncey are both on the DT, but there isn't any more room to go forward, so Tannehill runs for it. At that point, Martin's man spins back and runs down Tannehill from behind. While, theoretically, Martin could have engaged him more, if Clabo can keep Babin from disrupting the pocket, this play turns out differently.
4)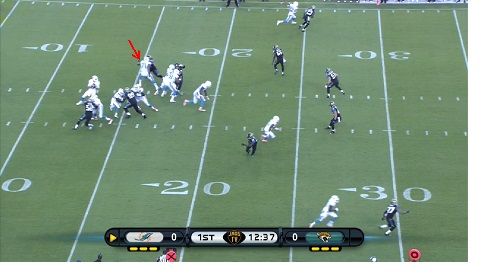 1st down pass to Gibson
In the above picture, you can already see that the pocket is collapsing on the right side when Tannehill finishes his drop. Martin is doing a good job. Tanehill steps up in the pocket and basically buys time and makes a nice play.
5)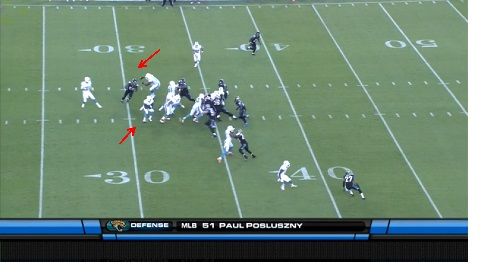 1st down run by miller basically stuffed
This play is not Martin's fault. Miller is forced to cut back into the only open hole that is filled quickly. Martin let's his man get around him, buying only a little time, but, I am pretty sure, had #55 not made the tackle, Martin's man would have gotten him from behind. Martin could have played this one better. (Top arrow is Martin letting his guy by; bottom arrow is Miller)
6)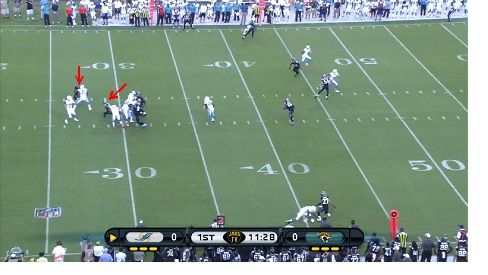 2nd Down incomplete dump off to Miller
Martin does fine. Maybe could have kept his man farther, but the pressure was not from Martin's man. (top arrow is martin, bottom arrow shows where the pressure is coming from)
7)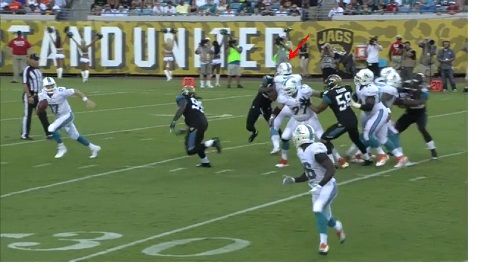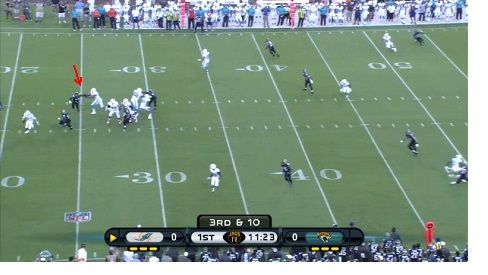 3rd down incomplete – flushed form pocket and nearly picked off
Here, the pressure comes from the DT Marks (who shows quickness and agility for a DT), although it looks like the DE #90, Martin's man, breaks free and is chasing Tannehill down, if Marks weren't able to come through, it wouldn't have been a problem. In the first pic, we see that Tannehill starts to scramble (after a 5-7 step drop… I can't count) well before #90 breaks free, and is already being flushed out.
8)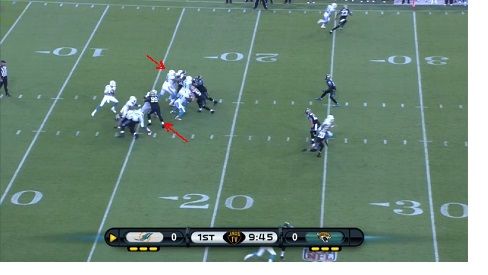 1st down pass to Hartline
Martin does a good job on Babin, who tries to cut in, only to find Incognito there as well. I can't fully credit Martin, since he got a big assist, but he certainly does his job, and there is no pressure from the left side. The lower arrow points to the DT Marks, who is pushing Samuda into the pocket. To be honest, as much as I think Samuda was playing poorly, Marks showed some pretty good ability in this game.
9)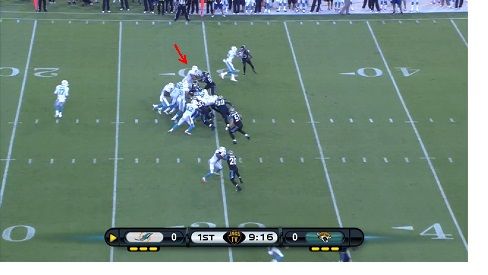 2nd down Thomas run for no gain
Martin clearly has the better of Babin on this play, pushing him back and opening a bit of a hole. Thomas would have been better served running left on this play. He might have been tackled by the safety Lowery, but he would have had a fighting chance (and possibly could have broken it outside to the left as well).
10)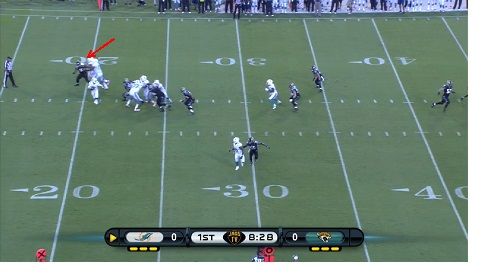 3rd Down incomplete to Clay
This was a messed up play. Pressure once again, and Hartline and Clay ran into each other! Martin and Incognito double team and keep their man at the back end of the play. But the right side (Samuda) gives up pressure. It is also possible that Tannehill held onto the ball, or the WR route problem caused him to hold on longer than he wanted. A poorly executed play, but Martin did his job, even though he had help.
11)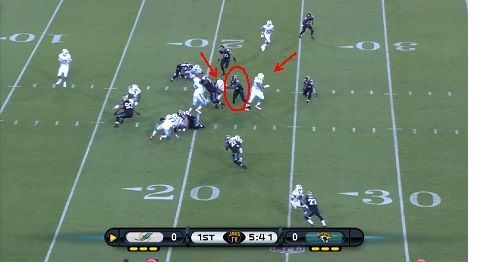 1st Down 2 yard run by Thomas
I can't know what Martin's assignment was, but it looks like he blew it in this run play. The important players are marked. The right arrow shows incognito, who chipped the DT Marks (circled), and broke into the second level to block. Martin, (the left arrow) throws himself at the other DT ineffectually and is basically falling to the ground in this image. Samuda already has that DT. It looks to me like Martin should have picked up Marks, but he thought Incognito was doing that. It's possible he thought Samuda needed the help? It looks bad. Marks and the MLB (who Pouncey pulled and hit but who was able to make the tackle) were in on the tackle. Had Martin blocked the right guy, it's possible that the MLB would have tripped up Thomas anyway, but I don't think Martin did his job.
12)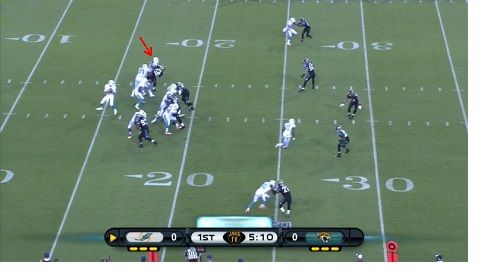 2nd down short pass to Keller PENALTY Jags
The cool thing about this play is not Martin's blocking, but the chip given by the TE Keller on Martin's guy Jason Babin. Keller (red arrow) hits Babin hard, and he gets sent to the ground, and Martin is able to keep him from getting back in the play. Keller has a reputation for being soft when it comes to blocking. Not on this play!! Martin does his job, but had help.
13)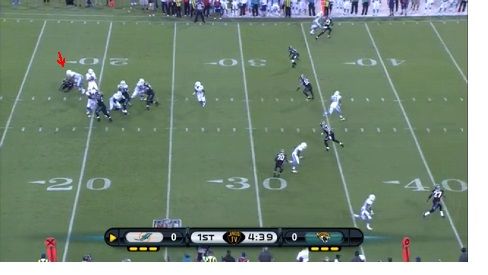 1st down big pass play to Keller
Babin tries to speed around the edge. Martin is good at defending these types of rushes, and proves it once again. Martin puts Babin into the ground, as shown in this image.
14)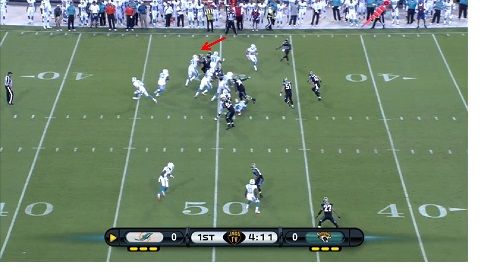 1st down, D Thomas 9 yd run
Martin takes on Babin at the point of attack, and helps open up a nice running lane for Thomas.
15)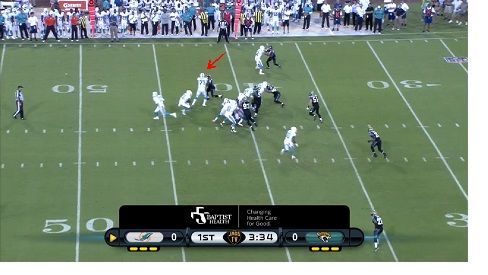 2nd down D Thomas 8 yds
Martin, once again, engages Babin and opens up a running lane. Thomas decides to cut in, though. I am not sure why, although I am not sure it made a difference. The run wasn't bad at all. Still, he has a nice path to the left. Anyway, Martin did his job well.
16)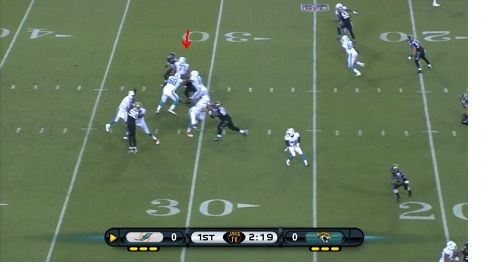 1st down 6 yd pass to Miller
Martin holds his own in pass protection, keeping the pocket clean (incognito helps out pretty much after the play is out of reach. Martin wins his battle). Once again, though, #99 the DT Marks owns Samuda, who flushes Tannahill out of the pocket.
17)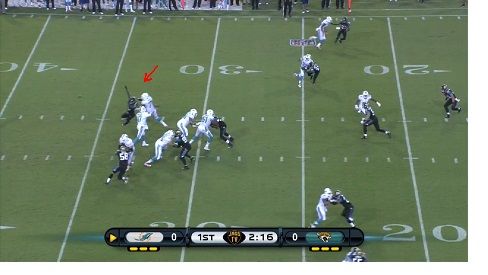 2nd down incomplete pass to Tyms This image already shows the ball being thrown. Martin has done his job.
18)
3rd and 4 McNutt gets mugged – Pass Interference
The ball is released in this image. Martin pushes the speed rush out and up, handling it as fine, as he normally does.
19)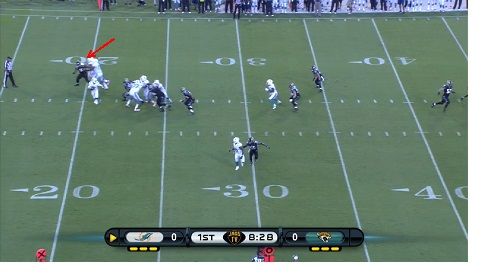 1st down TD to Keller
Martin handles Babin decently, although he gets pushed a bit, it isn't a huge problem. Later in the play Incognito jumps in to help, but Martin held his own. Obviously, the play was a success.
Conclusion: While not perfect, Martin was more than adequete in pass protection. He did occassionaly get help, but was often alone and held his own. He had some mistakes in run blocking, [and thanks to ct for helping me understand that he botched two cut blocks] but also showed some nice push, opening up running lanes. He did a better job against Babin than Clabo did. Samuda had some real problems though, and I can't tell if that is more about how good Sen'derik Marks can be, or how bad Samuda can be. Overall, Martin looked fine. The pressure on Tannehill was not coming from his side.