There are probably more people around here projecting trade ups and downs, then people projecting we stay at 12, but let's be honest. Trading up is a bad idea, the separation between players like Dee Milliner and Desmond Trufant and players like Lane Johnson and Menelik Watson is not a very big difference in ability and upside, or not enough to give away two 2nd round picks. The only way I see us trading up is if we get a good deal where we end up keeping both of our 2nd round picks. Trading down would be great, but again, let's be honest. Everyone wants to trade down, the idea of trading down a few spots for an extra 2nd or 3rd round pick is extremely tantalizing. Who would the team be trading up for? Tavon Austin to get ahead of the Rams? Xavier Rhodes to get ahead of the Bucs? Although it would be great, I just don't see it happening. So this is a "let's be honest" mock draft.
Round 1 pick 12: Jarvis Jones, OLB, UGA- There's a chance that Jones won't be here at 12, but in my opinion teams will pass on him due to a combination of his medical issues and his 4.92 forty time. Jones was once considered the #1 prospect in this draft, but since his medical issues and his forty time came up he has dropped as a prospect, but his production and consistency on the field speak for itself.
Strengths: Jones is an Elite player on the edge. He is extremely explosive off the ball, stronger than he seams with an effective bull-rush. He has the flexibility to get underneath the OT's. He is also extremely athletic, enough to be good in pass coverage.
Weaknesses: Jones' only notable weaknesses is that he is a bit undersized, and his medical issues. Jones played through is spinal injury in college, and I expect it to be a non-issue in the future.
Fit: Jones would probably be replacing Koa Misi as a LB. He would serve as the primary pass-rushing LB with the ability to drop in coverage whenever needed, he is also strong against the run. He will fit into our LB core perfectly, being the pass-rush specialist, Wheeler being our coverage specialist, and Ellerby with the ability to pretty much do whatever is asked of him.
.
Round 2 pick 43: Tank Carradine, DE, FSU- Carradine is a very explosive athelete, who before his ACL injury was in the 1st round discussion.
Strengths: Carradine is extremely explosive off the ball with good closing speed, and natural bend and flexibility. He also had very solid production, until his ACL injury.
Weaknesses: Tank is still developing as a pass-rusher, with only one year of Division-I production. His ACL injury is the other issue.
Fit: Carradine fits perfectly with us in my opinion. He will share time with Olivier Vernon at DE opposing Wake. Odrick will slide in with Kheeston Randall as rotational DT, possibly being replacements when/if Starks and/or Solai walk after this season.
Round 2 pick 54: David Amerson, CB, NCSU- Amerson is our first "need" pick. Before his Senior season he would have been a really high 1st round pick.
Strengths: Amerson has a very rare combination of height, weight, and speed, and the most incredible thing about it is that he excels in zone-coverage. Amerson is also a proven ball-hawk with 18 interceptions in the last 2 years. At the combine he proved his straight-line speed.
Weaknesses: Amerson has concerns about his fluidity and straight-line speed. He disproved his straight-line speed questions at the combine with a fast Forty time. Last year he got burned a lot, and I believe it was due to his overthinking his interceptions of the previous year. This will be coached out of him with our staffs proven ability to develop Corner's, Kevin Coyle and company.
Fit: This really depends on training camp. He may beat out Richard Marshall for #2 CB duties, or he may play nickel his first year. It also depends a lot on injury, seeing that both our current starting CB's are coming off of season ending injuries, but Amerson is our CB of the future.
Round 3 pick 77: David Bakhtiari, OT/OG, UC- There's always a chance Long, Armstead, or Pugh drops here, which would be ideal, but for now I have us slecting a promising Tackle in Bakhtiari.
Strengths: He physically looks the part of an NFL offensive lineman, with long arms. He has quickness and athleticism. His ceiling is very high.
Weaknesses: He needs work with technique, and may end up better suited for Guard.
Fit: There will be a competition in camp. He will be competing against John Jerry to play RT.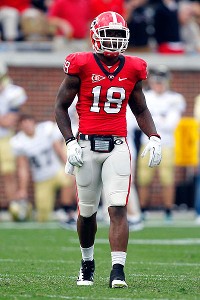 Round 3, pick 82: Baccari Rambo, FS, UGA- Rambo is a very underestimated prospect, having the ability to be a great starting FS with time to develop.
Strengths: Rambo has the speed, the success, the aggressiveness, and the ball skills to be a great FS.
Weaknesses: sometimes an inefficient tackler, and sometimes gambles in coverage. He also lacks elite catch-up speed.
Fit: Rambo will play this year behind incumbent starter, Chris Clemons. He will likely take over when Clemons is likely gone next year.
Round 4, pick 111: Marcus Lattimore, RB, USC (University of South Carolina)- before his tragic injury, he was the best RB in this class. Healthy, Lattimore is miles better than Eddie Lacy, and in my opinion, than Trent Richardson. He is also recovering at an amazing pace, already running, and cutting. Wether he will be able to stay healthy in the NFL is uncertain, but he's worth a shot in the 4th round.
Strengths: Outstanding burst, balance, and vision. Plus, a great finisher.
Weaknesses: Durability issues obviously, and may lack "elite" speed. Although the same was said about Doug Martin, and he had an amazing rookie season, with an amazing future ahead of him.
Fit: Reguardless of if he is ready the whole season or we get him of IR in the middle he will serve as a 1 2 punch with Lamar Miller in his best case scenario. He will likely play out his first season as the "power back". After 2013 all bets are off for the starting RB position if Lattimore manages to recover fully and stays healthy through the season.
Round 5, pick 146: Terry Hawthorne, CB, Illinois- Hawthorne would serve as great depth, with the opportunity to develop in to a good CB.
Strengths: Hawthorne has good height and frame for the position, with more than enough speed to handle the slot if needed.
Weaknesses: He needs to get stronger, and his technique needs refining.
Fit: Hawthorne will provide valuable depth at the CB position, putting us in the position to never let Nolan Carol see the field ever. He may be pushed in the slot as our Nickel Corner if Brent Grimes or Richard Marshall can't stay healthy.
Round 5, pick 166: Everett Dawkins, DT, FSU- Next year the DT position may go from a position of Strength to a position of Weakness, Dawkins could help prevent this from ever having to happen.
Strengths: He is a big, strong DT.
Weaknesses: Slower, with a lack of athleticism.
Fit: This year he will play as a depth DT, rarely seeing the field, developing. Next year, if both starting DT's walk, Odrick will have one of the DT spots locked up, and Dawkins will compete with Kheeston Randall for starting DT job, loser will play a rotational role.
Round 7, pick 217: Dustin Hopkins, K, FSU- Hopkins is an intriguing K prospect, lets us cut Carpenter and save another 3 million in CAP space.
Strengths: Has very strong leg, and even when he misses, he never misses by much.
Weaknesses: He is a bit slim for the position..?
Fit: He will compete for the starting Kicker job.
Round 7, pick 224: Caleb Sturgis: We draft... 2 Kickers? Yes, because drafting a Kicker isn't a sure thing.
Strengths: Very accurate (86% 24/28 as a senior) with plenty of leg strength.
Weaknesses: He has a low follow through and needs to work on driving the ball more upwards, he's contributed to 3 blocked kicks n 2012.
Fit: He will compete with Hopkins for the starting Kicker job.
Round 7, pick 250: Ray Ray Armstrong-
Overall: Armstrong is a big, aggressive athlete with the speed and range to cover both sidelines, flashing first round ability. Whether or not he will ever reach his full football potential has yet to be seen.
Fit: He will play behind Chris Clemons this year, and compete with Rambo for the starting FS job in 2014.
In Conclusion: The draft is very unpreictable, and who knows if some of the players I selected fall to us at the respective slot. But if they each did, I believe this would be an amazing draft start to finish, Now, I'm ready for your criticism. #Phinsup