No-go Rant
(I mean Logo Rant)
Where do we start? First off, I don't care if this has been beaten to death in post after post, blog after blog. Why? Because the logo is still there.
So as long as we have this weak ass logo, I will be speaking my mind.
No, I won't be buying any new merchandise. I'll buy the old stuff. There is nothing appealing to me about this logo. Nothing. I can't support it, I won't support it.
The overall marketing shift in the time period, is making logo's more edgy. More streamlined, more futuristic, more MEAN. The business as a whole is focused on a logo that grabs your attention, and makes you remember it, because the logo empowers the person wearing it. You see it in brands all across the country.
Logos are the FACE of the Franchise
Anyone that tells you different, is lying to you. People bought Nike for the swoosh. Here in Ohio, and a lot of northern locales, people buy North Face jackets for the logo on the opposite side of the chest, or on the back. The LOGO is what your fans adorn themselves with, to stand out as a wall of support for your team.
Compare and contrast these logo upgrades:
(Old on the Left, New on the right)


Where is my Futuristic logo?
If a logo is designed to empower you, this new logo empowers me to take up knitting....or croquette, possibly start a family garden and join Green Peace..... Seriously?
The logo has a very feminine tone to it, in my opinion. Nothing about this logo screams HARD NOSED, IN YOUR FACE, DOMINATING FOOTBALL....more, two hand touch football, where everyone gets a trophy, and a girl scout cookies in the end. I can only hope the backlash from the fan base, and expected drop in merchandise sales, results in ANOTHER re-branding in a year or two.
We needed a Wide Receiver. We needed speed. We needed someone to stretch the field. Mike Wallace was the the best name on board, and regarded as the top Wide Receiver available in Free Agency. SO why am I not jumping for joy?
Living in Columbus, I get to see a lot of the Steeler's game on TV (yay for me!), all of my neighbors are Steeler's fans, and so I've developed a fairly good opinion of him, based on my observations, and their hard core Steeler fan opinions.

Reminds me of: Ted Ginn Jr... Jr. (Ted Ginn III?)

Similarities between Wallace & Ginn
Runs few routes, and not very well
Alligator Arms
Does not attack the ball in the air
Has a Randy Moss attitude, takes plays off
Is not dependable in a clutch situation

Like, I said..... Way too many similarities to Ted Ginn Jr. I think he's better than Teddy.... but I'm definitely sure he's not worth what we paid for him. Even if we over paid for need, we definitely didn't SOLIDIFY the #1 position.
Danelle Ellerbe Rave
Worth every penny. We STOLE him from the Ravens after they traded Boldin just to make cap space. I'm excited about this pick up. I've yet to come across a Raven's fan that isn't upset with this loss.... That tells me even more than what I already knew. Can't wait to see what he brings.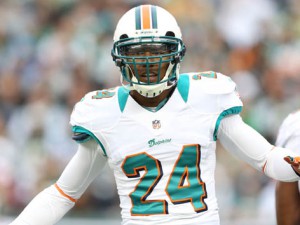 What the hell is going on? I was okay trading Vontae last year, because he was either big play, or touchdown given up. Super aggressive, but more often than not out of position.... but Smith at least got his hands on balls. Yes, he didn't catch them, but his hands are better than the Wide Receivers hand.
A cornerbacks job is not to intercept the ball, just to make sure the Receiver doesn't catch it. Smith did this in spades.... did he top out in the eyes of the D Coordinator? I don't know...maybe. But I can't believe we just let him go....leaving us again with major issues in PASS COVERAGE.
Am I unaware of the major upgrades that we've made in the Secondary? Did I miss the memo regarding the league getting away from being a passing league? What about this team screams that our offense will be able to keep up with the number of points we give up, because we STILL CAN'T DEFEND THE PASS?
Yes, we signed Grimes, who I am happy about, Grimes cant' play the entire field. Now we will have to develop yet another rookie, assuming we actually draft a CB early, and hope they develop better than Smith/Davis....which isn't a guarantee.
I've been one among the many that just didn't like Fasano, or didn't trust Fasano when it counted. I'm happy to see us pick up Keller. While he's not going to be confused as an Elite Tight End, he CAN (and I stress CAN) be one of the better TE's in the league if he remains healthy.
I think what he will bring to the table will immensely help Tannehill in his second year, and I can't wait to see the result..
(fyi, Suck it Jets)
fyi, I still hate the format of this site :) Blow me....just don't tattoo me with the new logo.

Hope to see some of you in Canton at the Hall of Fame Game!