So after whats happened during the off season, Many dolfans have struggled to see the upside. I can. With our new coaches philosophy, its obvious our team is in for an reshape. Now people are thinking this is like having to buy a new computer worth about $600 or more. Its more like having a custom built computer. You have a GFX and a CPU. lets say that the GFX card is the defense and the CPU is the offense. Now your GFX is a killer one, one of the best, but your CPU is bottle necking it and not letting it use its full potential. No, you don't have to start from scratch, you just order a new CPU and MOBO to match for about $300 and your set. Its just like that. Get Rid of Sparano's AM2+ offense and put in Philbin's I5 2500K offense to match Nolans 6870 crossfire offense and were golden.
Getting rid of the computer terminology, this is what to do to overtake the pats in a couple of years. Fight Fire with a Forrest fire and fight water with a tsunami . lets begin
Round 1:
Trade down!
Lets cross our fingers Richardson falls to 8. If so we can snatch up both 1sts from Cincy for our 1st and Chicago 's3rd
1A:
Ryan Tannehill: QB, Texas A&M
Tannehill is an interesting prospect. The QB from Texas A&M shows the size, arm strength, and accuracy to be a Franchise QB in the league. He is very raw in terms of his game management and lacks experience but things like these can be fixed. No other team should know more about him than us, since his former head coach is now our OC.
Trade up!
Dolphins send their 2nd and second 3rd to Cleveland for their second 1st
1B:
Coby Fleener: TE, Stanford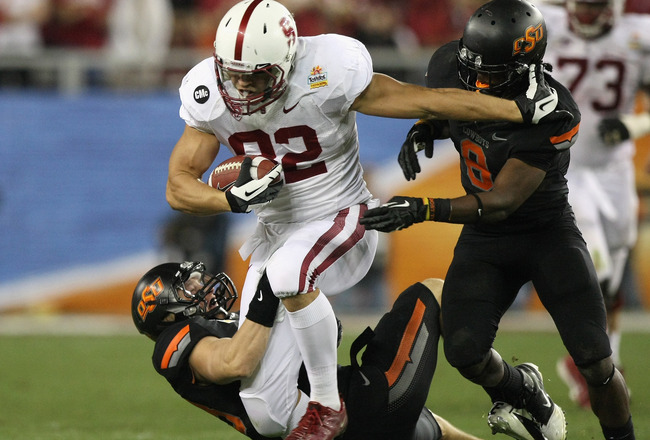 We have our QB, now lets get our TE. You could have said that TE isn't really a position of need for the dolphins a year ago, but with our new system things have changed. our HC comes from a team with FIVE TEs on the roster. We only have 2 "true" TE's. To make matters worse, neither of them are truly catching TEs. Lets fix that by picking up the best TE in the draft and Andrew lucks favorite target. Fleener is huge. at 6'6, he can stand above most players on the defense and make all the catches. He needs to improve his blocking a bit more to become an all around player.
Round 3:
Tommy Streeter: WR, Miami
Tommy Streeter is what would be known as a "Big body threat". 6'5 and 215 pounds, he is an ideal replacement for Brandon Marshall. He is insanely fast and WCO material.
Round 4:
Marvin McNutt: Wr, Iowa
It doesn't hurt to double down on big body WRs does it? We can pick up Mcnutt in the fourth round to round out or WR corps and make it truly formidable. Mcnutt is 6'4 and not as fast as Streeter, but his acceleration, agility and route running more than make up for it. Taking 2 Wr's allows us to take advantage of one of the deepest WR drafts in recent memory.
Round 5-7:
BPA at certain needs
These rounds are all about getting depth at a position or finding potential projects to work on. The choices here can vary but the positions of need are OG,OT,FS,SS,DT, and maybe TE.
Recap:
This is an all offense draft, no doubt. Fleener, Streeter, and Mcnutt can have an immediate impact, while Tannehill can prepare for a year or two to take the reins of the offense in the near future. Yes, i understand that i didn't make any defensive sided moves but our defense is good enough for now that we can focus all of our draft on offense.
Thanks for reading guys, share your thoughts in the comments