*Edit2: FO Dun Goofed so no winston or flynn. More of Moore I guess ( Or Tannehill?)
This has certainly been a busy off season and one we might not soon forget, but there has been some criticism directed at the front office, whether it be for not making any big moves or pulling of the Marshall trade. While at first my feelings got to me first and I too, was angry at the front office, now that ive given it a thought they are actually a shade a brilliant. The talent pool this year was blurred by overspending teams to the point that you were going to have to pay more for less. They have been aware of this and stayed quiet waiting for things to cool down. Well now things have and don't be shocked if we pull out a couple of moves. I was on the Peyton Manning Bandwagon but his price is ridiculous (3yr/$65M? No way Jose). Let some other team overspend for him while we pursue other avenues. The Brandon Marshall trade was a slick move as he is in some hot water with the NFL right now. People have said that 2 thirds is peanuts but this will be enough for my draft plans. Soliai was brought back but for a reasonable price so im ok with it.

Enough of my Blabbering, I present to you my Off season Plan 2.0.
Free Agency:
Wasn't much left, now thanks to the FO there is none left


The Draft:
What are we going to do to fill our positions of need you ask? We will do the most we can in the draft
Round 1:
Trade down!
What we are going for is too much of a reach at #8 so we trade down to #17 with Cincinnati for an extra second ( I really dont think they would give up *both* their firstso easily).
Pick#17
Nick Perry: DE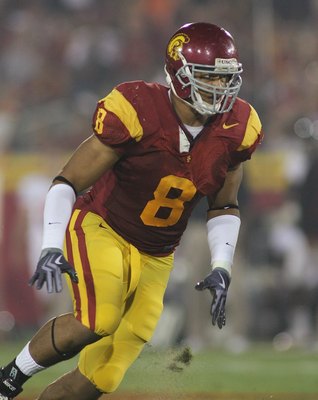 Trust me, We need a Pass rusher no matter what, and Perry is almost as good as it gets. The DE from USC struggles a bit with the run but he can catch on quickly and help make our defense a whole lot scarier.
Here is some of his highlights
Round 2A:
Coby Fleener: TE
What better way to welcome our new QB than with a pass catching TE? Fleener's humongous frame will instantly make him a receiving threat. He will have to gain upper body strength to push of his defender and become a better blocker.
Here is some of his stuff from a game against California
Round 2B:
Harrison Smith: SS
If he falls this far we need to seriously take a look at him. The SS from Notre Dame is truly instinctive, knowing how to be at the right place at the right time. Smith would be able to Replace Y.Bell in the near future as he gets older, and he can help defend against the TE's that have been plaguing this defense for quite some time now. Here is a short sample of his work against Stanford
Round 3A:
Tommy Streeter: WR
And so Begins our Replacement of Brandon Marshall. Streeter is a big target at 6'5 and most of you should be familiar with him since he is a hometown U. Keep him in Miami and we might even get some more butts in seats. Now our offense is great, but the next pick will make it Deadly. Some film
Round 3B:
Marvin McNutt: Wr
How do you surpass picking up a big body receiving threat? You pick up another one of course. Even though McNutt is an inch shorter, he is more WCO cause of his agility and route running. Just thinking of them lining up opposite each other is scary good. Film here
Round 4-7:
BPA at certain needs
Im not so sure of what we might need, so I think round 4 down is the time when we pick up some depth and potential projects.
Recap:
No Marshall? No problem. No Peyton? No problem. We have our Pass rusher DE opposite wake, a Pass-threat TE, our Future SS, and a potentially lethal WR combo. Well, we can still look foward to beating the jets as we go 2-14. GNARLY FOR BARKLEY.
What do you guys think of this off season? Brickk out.