I'm not sold on Matt Flynn, even though it doesn't matter what I think, if Joe Philbin believes Flynn is the answer then by all means sign him up, but I don't think he's a franchise QB. Peyton Manning on the other hand could be the answer if healthy, but thats a BIG if. I have been hearing alot of rumors lately concerning Manning's health, and I now believe that Peyton will not be healthy any time soon. This is what I believe the Dolphins should do this Off Season in order to be Playoff and even Super Bowl contenders.
Free Agents:
Carl Nick, LG
The Dolphins Offensive Line needs big time help, signing Carl Nicks almost instantly solves their problems. Nicks is the best Offensive Lineman available, and he should be the Dolphins #1 target this Off Season. At 6-5, 343 pounds Nicks is just what Miami's Offensive Line needs, hes only 26 years old and is in the prime of his career.
Robert Mathis, DE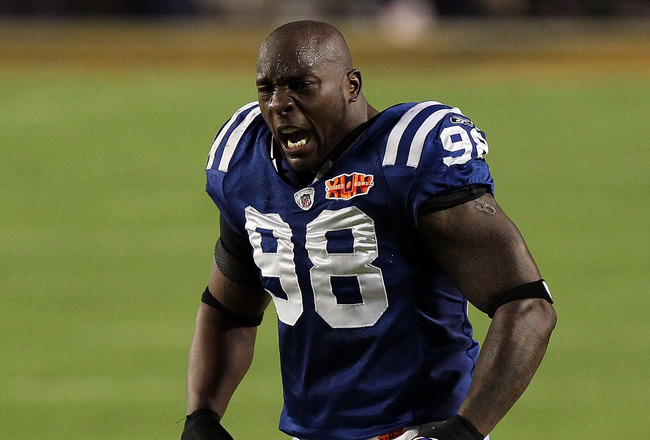 At 31 years old Robert Mathis, still one of the best pass rushers in the NFL, shouldn't demand that much money. The Dolphins switching to a 4-3 will make their need for another pass rusher even greater and I belive they address it by signing Mathis. Cameron Wake, Randy Starks, Jared Odrick, Robert Mathis, that would be a vicious Defensive Line.
Reggie Nelson, FS
The Dolphins Secondary wasn't terrible, but it wasn't great, signing Reggie Nelson will improve it dramatically. Nelson had a Pro Bowl caliber season, and adding him to a Secondary that has Vontae Davis, Sean Smith, Yeremiah Bell, etc., will only make him better. Oh and the Secondary Coach that basically revitalized Nelson's career in Cincinnati, is Dolphins new Defensive Coordinator Kevin Coyle.
Draft:
Trade up for Robert Griffin III, QB, Baylor.
I believe the Dolphins will trade up and draft College phenom RGIII. He has a cannon for an arm, pinpoint accuracy (even on the deep ball), great athleticism, everything you could ask for in a QB, and then some. If you believe a guy can get you to the promise land, you give up whatever it takes to acquire him, and I believe that RGIII will make the Dolphins contenders for many years to come. I believe this years 1st rounder, 2nd rounder, and 3rd rounder, plus next years 1st will get the Dolphins the #2 or 3 pick.
Remaining Rounds: BPA at RT, CB, LB.
Depth Chart
QB: Robert Griffin III, Matt Moore
HB: Reggie Bush, Daniel Thomas
FB: Charles Clay
WR: Brandon Marshall, Brian Hartline, Davone Bess, Clyde Gates
TE: Anthony Fasano, Charles Clay
LT: Jake Long
LG: Carl Nicks
C: Mike Pouncey
RG: Richie Incognito
RT: John Jerry
LB: Karlos Dansby, Kevin Burnett, Koa Misi
DE: Cameron Wake, Robert Mathis
DT: Randy Starks, Jared Odrick
CB: Vontae Davis, Sean Smith, Jimmy Wilson
SS: Yeremiah Bell, Reshad Jones
FS: Reggie Nelson, Chris Clemons
This Off Season will make the Miami Dolphins instant contenders, having addressed the teams biggest holes (QB, Pass Rusher, Secondary, etc.).