Hello? *knocking dust off mic* Heh, yeah i know its been awhile. Whats that? You're mad, mad that i dont talk to you anymore. Meh, well i don't really care. But just so you know, and i mean this, i miss you. In 5 days i will have officially been a member of the Phinsider for 3 years. 3 Glorious years of....uhh...what do we do here again? I joined while deployed to Iraq. I've come so far since then, and made it all the way to Trashcanistan. FML. So i want to give you guys a little insight into what this season has been like for me. Our team, being winless until week 9 has not generated enough interest to get any games aired here in Afghanistan. With the exception of the 2 MNF's and Thanksgiving, on account of the fact that there were no other games playing at the time. I dont want to talk about winning or losing, coaching, drafting, or any of that junk. Im taking a cue from my bud OFF4L and SHOWING you what the dilly is.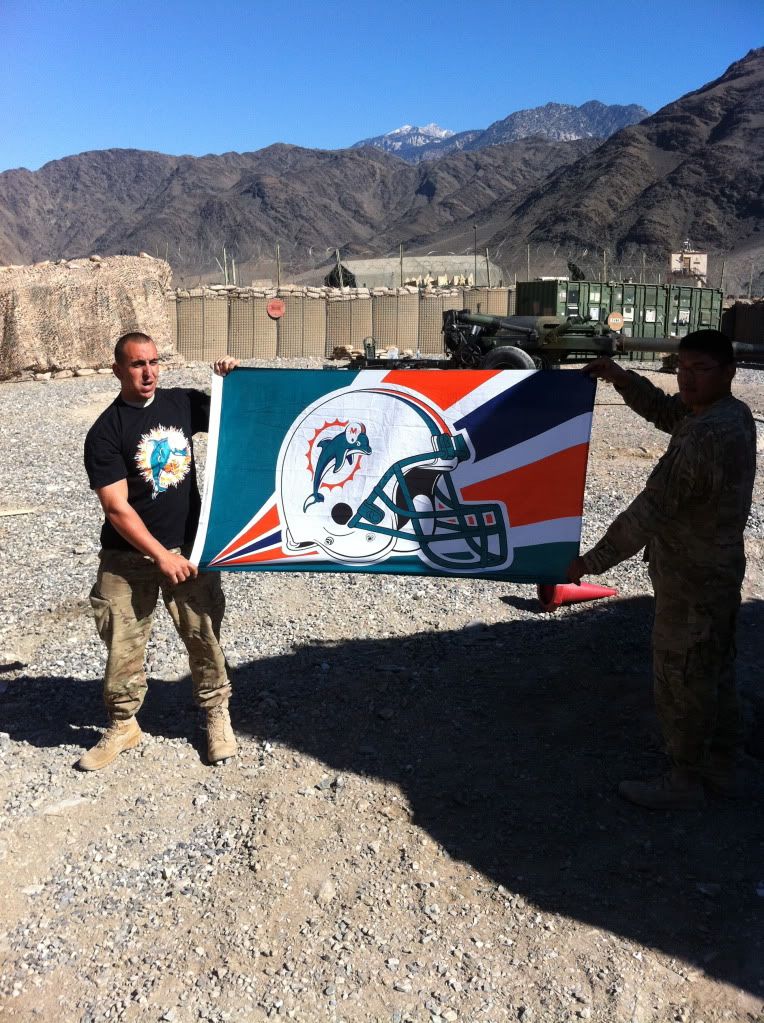 So here i am in the "TrashCan". Sporting my very own deep end, Phin Addicts shirt. Thanks to Jeff aka Stripe, for inviting me to his viewing party while i was home on leave, and hooking me up with this super sweet shirt.
Here i am with the big boy. Mosul, you know what im talkin bout huh huh!! *elbow nudge* ahhh yeah, you know.
I've had lots of time for solemn reflection this season. Its been tough. Its been heartbreaking. Its been a rollercoaster that is all drop and no flips.
I only added this pic so you can see that i been workin out. Check out those tri's. Yeah i know you like that Sh*t.
So i got a super sweet care package with a super sweet Phins stocking in it. Im stoked, on the stocking. Just unsure of what to stuff in my stoked stocking. Stuff. Oh yeah, im a f*cking reindeer, its a secret Army thing, so dont ask.
Well, thats all folks, See ya later!! AMERICA