HC
Bill Cowher
A SB winner and just a great overall coach. I would normally want an up and coming coach, but after seeing the idiots the Dolphins have hired over the past few years, Saban, Cameron, Sparano, etc., I would now prefer a vet, and who better than Cowher?
Top Free Agent Signings:
Ben Grubbs, OG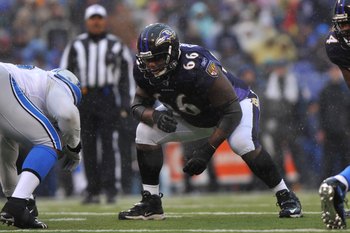 Signing Grubbs would make our Offensive Line greater almost instantly. With him on the team our O-Line would look like this, LT Jake Long, LG Ben Grubbs, C Mike Pouncey, RG Richie Incognito, RT Vernon Carey. Pretty good Offensive Line if you ask me, our only hole would probably be at RT, but I think Carey can readjust to his ORIGINAL position.
LaRon Landry, SS
Is there any Safety in the league that reminds you more of Yeremiah Bell? One of the premier Safeties in the NFL, Landry as you can see, is built like a Linebacker and will flat out crush his opponent week in and week out. He will be the perfect replacement for Yeremiah Bell, because as we all know, Bell is getting up there in age. With Landry and the Lester, the Dolphins will have a dynamic duo at the Safety position.

Must Keep Players:
1. Reggie Bush HB
2. Daniel Thomas HB
3. Charles Clay FB/TE
4. Brandon Marshall WR
5. Brian Hartline WR
6. Davone Bess WR
7. Jake Long LT
8. Richie Incognito LG
9. Mike Pouncey C
10. Nate Garner OL
11. Vontae Davis CB
12. Sean Smith CB
13. Jimmy Wilson CB
14. Karlos Dansby ILB
15. Kevin Burnett ILB
16. Cameron Wake OLB
17. Koa Misi OLB
18. Jared Odrick DE
19. Kendall Langford DE
20. Randy Starks DE/DT
21. Paul Soliai DT
22. Dan Carpenter K
23. Brandon Fields P

Draft:
Round 1: Robert Griffin III, QB, Baylor

I believe Barkley will go back to school, and I'm not sold on Jones, plus he may be gone by the time we pick, the way we have been playing the past couple of weeks. RG3 might just be the next Michael Vick, just not as fast and not as powerful an arm, but his accuracy is far superior to Vicks. Athletic, accurate, good arm, and fast, RG3 will be a great fit in the Dolphins offense, plus he will have two great receivers, and the monster TE I'm about to show you to throw to.
Round 2: Dwayne Allen, TE, Clemson
This guy is a pure beast, good blocker and an even better receiver. The Dolphins seem to ignore the TE position, but I think that changes this Off-Season. Miami will finally have a potential Super Star at the TE position.
Round 3: Robert Lester, FS, Alabama
Lets face it, Miamis weakest position on Defense has to be FS. Lester always seems to be around the ball and will greatly help out the Dolphins secondary, plus he doesnt have bricks for hands.
Rounds 4-7: Best O-Linemen and Defensive players available.
How happy would you be with this Off-Season?