i seen on tv that brett favre is retiring, but personally i think he has another year in him and maybe can come to miami. even if he doesn't start he can try and mold a younger prospect and give them tips on the do's and don'ts of being an nfl quarterback. we could get him here probably relatively cheap and he could even compete for the staring job. so what do all you guys think? need 75 words words words matt turk dan orlovsky blah blah.
--------------------------------------------------------------------------------------------------------------------------------------------------------------
Now, above is an example of somethings some posters have been putting onto Fanposts here, and some members have had enough. I do not think this matter is life and death, but it is common courtesy to think before you post and know why most users here get upset when they post something similar to the one above.
I have had an idea for a post since after the debacle to Detroit, but I am going to put it into this post to show the differences between the one above and it. Though I have put much thought into this post, it is still not a finished project as I was thinking of more things to add, I am using it for example purposes only.
-------------------------------------------------------------------------------------------------------------------------------------------------------------
2010 Miami Dolphins setbacks, and why the 2011 Dolphins will be improved.
The 2010 Miami Dolphins season, as we all know, was a huge disappointment. A lot of the blame is centered on a trio of players and coaches, Chad Henne, Tony Sparano and Dan Henning. And in my opinion, rightfully so. I have been a Henne supporter since the day Miami drafted him, all throughout this year I have been telling people that Henne is in a slump, his offense coordinator is garbage, etc. But the more I look into it and looked at the big picture, Henne seriously cost us big this year with interceptions and inaccurate passes. Sparano and Henning did not help, their conservative approach kept opposing teams in the game, hence Detroit, or got us in a hole to start, hence first meeting with the Jets. Hennings offensive play calling is some of the most mediocre I have seen, and Sparano let it all happen under his watch.
Henne, Sparano and Henning were certainly to blame, but overlooked players and injuries were also a big factor in yet another sub .500 season. The following are in no way new to any of us here, but when bashing this team, it seems to be overlooked and all of the attention goes to "the big three" above.
Brian Hartline being injured via charger21lt photobucket.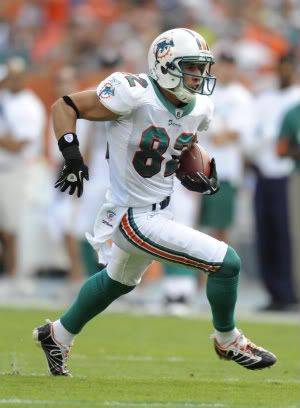 With Hartline out, the Dolphins finished 1-4, (counting the Cleveland game he did not finish) with the one win being against the New York Jets, a game where Miami's passing attack was non existent. With Hartline, one would imagine that close losses against Buffalo, Cleveland, and Detroit would have been the difference in field position and opening up Marshall and Bess more, thus resulting in wins.
Dropped interceptions. via palm beach post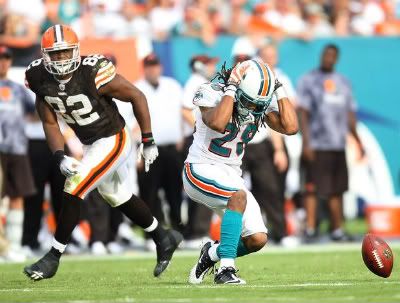 Obviously noticeable, but even if half of the should be intercepted balls are, well, intercepted, then there is a real chance that Miami is still playing. Sean Smith is developing into a nice young corner, but his butter fingers killed us and took away game changing plays and possible wins, and something that cannot be blamed on "the big three."
Ronnie & Ricky. via blacksteeljr90 photobucket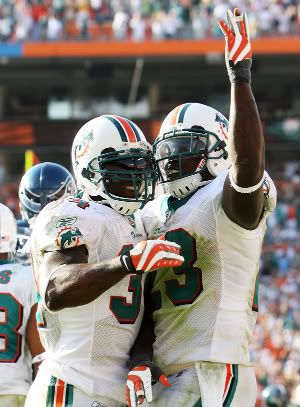 In my opinion, one of the biggest disappointments of the year. Ronnie stayed healthy for a change, but showed age and danced at the line of scrimmage. Ricky was the more impressive of the two, but still was nothing compared to what we are used to seeing. Their troubles can be blamed on Henning, who sometimes completely gave up on the run, hence Chicago, and it may also be blamed on the underneath.
Offensive line injuries. via miami sports general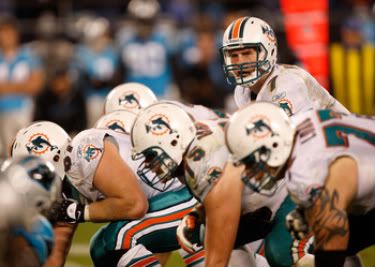 Could be credited to Ricky's and Ronnie's troubles, just last year Miami had one of the NFL's top tier offensive lines, and yet one year later it went down the gutter. No holes opened to establish the run and Henne was constantly pressured. I blame Sparano for not putting Richie Incognito at center where he was an obvious upgrade over Joe Berger, but other then that, it was just a cruel fate of injuries that caught up with this team.
A.J Edds injury.via steelerfreak7619 photobucket
via steelerfreak7619 photobucket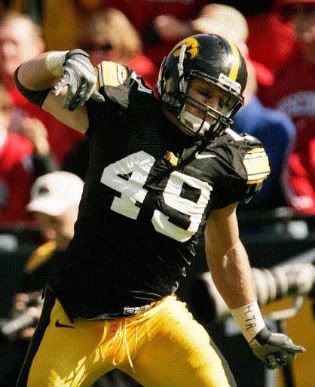 One of my favorite draft picks from this past draft, he would have held an important role on this defense and filled a key weakness on this otherwise stellar defense, covering tight ends. Edds is a specialist in the art, and his absence hurt this 2010 team, once again Cleveland is a perfect example.
Jared Odrick injury via dolphinsruledaworld photobucket.
It literally feels as if people have completely forgotten about Odrick, even though he was our first round pick. Our defensive line played well as was, but other then keeping a quarterback on the bench to develop, first round picks are normally players that are expected to be on the field, Odrick wasn't, so it was as if we had no first round pick a year ago in 2010.
Conclusion- I believe all of these things, mixed with "the big 3" were all key points into making this season what it was, mediocre. The bright side is that most of the key problems are fixable, Henning is gone, Edds and Odrick are coming back healthy, the dropped interceptions can be fixed with patience and practice and as the old saying goes, "practice makes perfect." Which is certainly true, with some extra time on the jug machines, our defensive backs can turn into a serious ball hawking squad, turnovers turn into points, points into wins. The Patriots this year show that. So chin up fellow Phin fans, it was a crudey year but things are looking bright, just fix what are fixable mistakes, and stay healthy. Bring on 2011. --------------------------------------------------------------------------------------------------------------------------------------------------------------
As I stated above, this post was a work in progress, I was thinking of more things to add and think more in depth about the subject, but what I just mentioned is a point some members need to realize, I gave the above post 2 weeks of thought and still was not ready to put it on here. So with that, here comes the original purpose of this post and reasons why their is a Fanpost section and a Fanshot section
Compare the post at the top, to the post I have written just above. I have worked on this for precisely 3 hours and given it 2 weeks thought. Some people take pride in what they do here, is it fair for the top post to push off the lower one? No.
Now once you have compared them, you should see the difference. Fanposts take in depth thought, an idea that should easily reach the 75 word limit, if not triple it. Fanshots are links, or things you find interesting, even a simple question. There is a reason there is one, and the other.
If you come across a link or question that you are sure members here would really enjoy, then you should want it in the Fanshots! It only takes 3 recs to get on the recommended Fanshots. So it will still be there and you can put your opinion in a comment.
This works both ways, if we expect people here to post Fanshot worth things where they belong, then everyone needs to pay attention to them so they cannot say well I tried, they should keep in mind some people just might not like it as much as them, but pay attention to Fanshots, they're interesting and more often then not you will learn a lot about our team from them.
So in conclusion, some people work really hard on posts here, just keep that in mind and think twice before posting something short that may take away a post someone worked really hard on and that some members will not get to appreciate because it was taken down because posts that should be Fanshots took its place.
As I mentioned above, it's not a life or death issue. It's just something that needs to be looked at more, it's not that members here are being mean, it's just that there are two different kinds of posts for a reason, and just think of where your post needs to go before you put it. Thanks for your time and understanding. Go Dolphins!