As Dolphins' fans, there is no question the 2007 Miami Dolphins nightmare season is still burned into our memories, no matter how much we try to forget about it. The 2007 Miami Dolphins were only a mere 1-15, and only 3 years ago. But now in 2010 we're talking about about a possible contender to make alot of noise, why? Or better yet, how? It all started 3 years ago, with a man dubbed "The Tuna", an offensive line coach from Dallas, and one very large football player from the University of Michigan.
The birth of this Miami turnaround started on December 20, 2007, when Bill Parcells came out of retirement for the third time and was named the Dolphins VP of Football Operations. Parcells' past has been rich, with his coaching days with the Giants in which he won 2 Super Bowls, and coaching the Dallas Cowboys to a 34-32 record in his tenure. He also instilled discipline into players, and has been known to only draft hard working players, and leaders, these players have there own name when entering the draft, or free agency. "Bill Parcells type players." This gave Miami fans a breathe of hope, but there was still much to be done.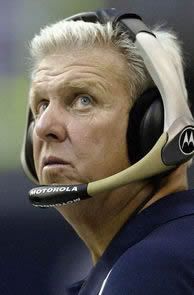 Coming off of a dismal 1-15 record and draft, Cam Cameron got no second chance and was fired after his first season. So after the hire of Bill Parcells, the Dolphins searched for a head football coach. The man they went after had past ties with the already hired Parcells in Dallas, and was a highly sought after coach for many teams. This man being of course Tony Sparano, offensive line coach and play caller of the Dallas Cowboys. Sparano was interviewed during the Cowboys bye-week in the playoffs, and was "the guy" that Bill Parcells wanted, and had formally mentored. After the Cowboys were eliminated from the playoffs by the eventual Super Bowl champion New York Giants, he was hired by Miami owner Wayne Huizenga, and Dolphin fans had another reason to think things could turn around for them, but much more was still to be done.
The 2007 Miami Dolphins were a team that was injury riddled, Ronnie Brown suffered a season ending injury, as did Zach Thomas who suffered a concussion. With two of the teams best players out, things were pretty bleak. Ricky Williams was suspended, and when he came back, he was also knocked out for the season on a questionable uncalled for cleat to the back, the QB position was as it had since Dan Marino left, with Trent Green being concussed, a rookie in Jon Beck, and a current CFL player in Cleo Lemon. With Ronnie and Ricky both missing from the backfield it was up to Jesse Chatman to carry it for the Phins, and the wide receiver corps consisted of rookie Ted Ginn, veteran and missing a step Marty Booker, and Chris Chambers. The biggest hole in the offense was the offensive line, led in company by players such as Chris Liwienski, Samson Satele, Rex Hadnot, and LJ Shelton. The defensive side was slightly more talented with Jason Taylor, Matt Roth, and Vonnie Holliday. But still gave up points in bunches. How could this mess ever be fixed? It would all be started with one selection in the up coming draft.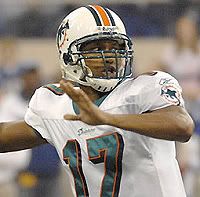 Enter the 2008 NFL draft, the Dolphins' Front Office wanted to give the Dolphins a complete makeover, a younger team, and a team with more discipline and leadership. The Dolphins had the first overall pick, and there was speculation on what they would do with it, trade it, keep it and  work on the offensive line? The decision became evident, and the Dolphins selected an offensive tackle from Michigan, Jake Long.  This pickup was the start of a change that would change the face of the Miami Dolphins.
In the 2008 off-season, the Dolphins would drop players to try and change the identity of the franchise, even if it didn't sit well with the Dolfans. They decided to get rid of Zach Thomas due to injury problems, and traded Jason Taylor, for future 2nd and 6th round picks. These two players were both fan favorites, and seemed strange. But the Dolphins continued to cut players, and pick up players, some being Akin Ayodele, and Anthony Fasano from the Cowboys. And signed defensive back Nathan Jones, also previously with the Cowboys, to a 2 year contract. They signed to ILB's in Reggie Torbor and Charlie Anderson in free agency, and resigned WR Greg Camarillo, S Yerimiah Bell, and RB Patrick Cobbs. The 2008 draft also seen some key acquisitions, along side Jake Long, the Dolphins also acquired Philip Merling, who seen playing time as a rookie, and in the 2nd round selected they went with another Michigan player, QB Chad Henne, who is now the current QB for Miami. Donald Thomas and Shawn Murphy were drafted to add to the offensive line woes, and Lex Hilliard was drafted late to add RB depth. The new look Dolphins were moving in a positive direction, but all the way into the preseason, still lacked that one piece, a field general, a QB. There was no for sure starter, even with new additions in the rookie Henne, and the new addition in Josh McCown. But when Brett Favre chose to sign with the New York Jets, they dropped Chad Pennington, and the Dolphins pounced. The Dolphins looked to be improved, but coming off of a 1-15 season, expectations were still small.
In 2008, the Miami Dolphins finished with a remarkable NFL record turnaround season, finishing the season 11-5, winning the AFC East, and clinching their first playoff game in 7 years. And here we are, in 2010, with a new look defense run by Mike Nolan and new acquisition Karlos Dansby, and an elite WR acquisition in Brandon Marshall, the offensive line has gone from pathetic to punishing, and the Dolphins have gone from doormat to contender, in only 3 years, and it all started with with a man dubbed "The Tuna", an offensive line coach from Dallas, and one very large football player from the University of Michigan.