Happy Thanksgiving to everyone!
 It is also a thing to note that our very own, Miami Dolphins, have successfully completed the largest Thanksgiving Meal Giveaway! Here is an exert from the entry that you can find here;
http://www.miamidolphins.com/news/dolphins-successfully-complete-largest-thanksgiving-meal-giveaway
"Among those on hand at the stadium giving out meals and helping families to their cars were Pro Bowl left tackle Jake Long, cornerbacks Vontae Davis, Sean Smith and Nate Ness, linebackers Quentin Moses and Ikaika Alama-Francis, wide receiver Davone Bess, defensive linemen Kendall Langford, Tony McDaniel, Paul Soliai and Ryan Baker, running back Patrick Cobbs, fullback Lousaka Polite, long snapper John Denny, kicker Dan Carpenter, punter Brandon Fields and offensive lineman Vernon Carey and Lydon Murtha."
Here are some of our former players to win awards on Turkey Day.
 The All-Iron Award
2003 – Jay Fiedler
2006 – Joey Harrington
*Last Year – Brandon Marshall won the "Pudding Pie Award" but was given a Pumpkin Pie*
Thanksgiving Day standings
Of current NFL franchises. This includes American Football League and All-America Football Conference games.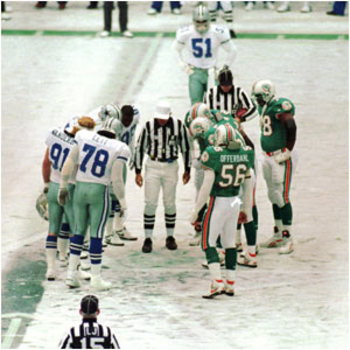 Memories of The Dolphins on Thanksgiving
"Some of the games have been infamous for other reasons. In 1993, the Cowboys led the Dolphins 14-13 with just seconds remaining in a snow-filled Texas Stadium. Miami's Pete Stoyanovich attempted a game winning 40 yard field goal that was blocked by the Cowboys' Jimmie Jones. Dick Enberg of NBC proclaimed "The Cowboys will win." However, Cowboys defensive lineman Leon Lett chased the ball and touched it, giving the Dolphins a chance to regain possession, and then kick a much shorter field goal to take an improbable 16-14 victory."
  So from me and mine to you and yours, have a very safe and Happy Thanksgiving! To our Troops reading this; Thank You for everything and have a safe time and enjoy the holiday! For everyone that is travelling on this day, be very careful as you see much "road rage" and traffic everywhere!
Your Fellow Dolphin Fan,
Emmett L. Dove