Many people know when the Miami Dolphins were founded,  and by whom,  but how much do we really know beyond dates and names?  Lets take a look into it, make the jump.
The Miami Dolphins were founded by Joe Robbie and Danny Thomas in 1965 for 7.5 million dollars.   Many of us have never heard of Danny Thomas,  who was an actor,  because he sold his stake in the team to Robbie soon after the initial purchase.    Robbie was born in South Dakota in 1916.   He graduated law school at the University of South Dakota,  before joining the Navy and earning the Bronze star for his efforts during WWII combat in the pacific region.   After an unsuccessful attempt at running for governor of South Dakota,  he moved to Minnesota,  then to Miami.   In his fist 4 seasons,  Robbie didn't see much success,  posting a record of 15-39-2.  After the hiring of Don Shula,  the Dolphins immediately improved to 10-4 and earned a playoff appearance,  where they lost to the Oakland Raiders. 
Robbie also owned two soccer teams:  The Miami Torros and the Fort Lauderdale Strikers.  He was inducted into the national soccer hall of fame in 2003. 
Joe Robbie died in 1990.
Pictured:  Joe Robbie.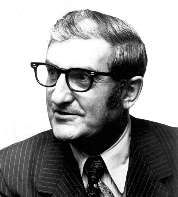 How did the chose the name "Dolphins"?  They held a contest where local residents could submit a name of their choice for screening before a panel.  They received over 19,000 submissions,  and eventually chose the name "Miami Dolphins"  which was submitted by over 600 different people.  Other names included the Mariners, Marauders, Mustangs, Missiles, Moons, Sharks, and Suns.  Can you imagine rooting for the Miami Suns?  It just feels wrong.  
Construction on Joe Robbie Stadium was completed in 1987.  It included a club level and executive suites,  which was revolutionary to pro football stadiums at the time.   Money paid in advance from season ticket holders was used in the financing of the stadium.   Do you ever wonder why the front row of seats in the stadium is so far back?  That is because the stadium was designed to facilitate football, baseball,  and soccer games.  This initial design is what allowed the Florida Marlins to come to fruition in 1993.  Joe Robbie Stadium has hosted 5 Super Bowls.  In a month,   it will have hosted 6. 
We all know where we are,  but its good to know where we've been.  No matter your age,  creed or color,  history and culture are so important in our lives.  Whether it be your nationality,  your area of expertise background,  or even just your favorite sports team.  We all come from somewhere,  and we all owe of a great deal of respect to the shoulders we've stood on to get where we are. 
Medic Out.