Let me start this out by giving a huge shout out to Ohio.  This guy is the man.  I've said it before, and ill say it again:  when i die, i want to be reincarnated as OFF4L.   Allright,  this is a "picture" story,  so i'll stop yakking.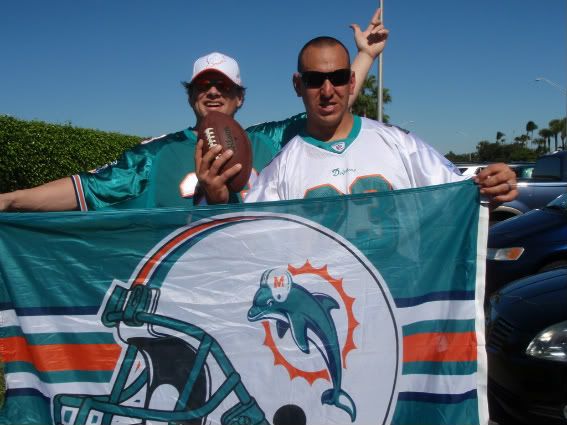 I first met up with Ohio around 10am.  The energy level was instantly raised.  Dolphins pride was abundant!!!
Who said getting older means you have to grow up??  These two guys definitely did NOT get the message.   Early on in the tailgate we noticed this vehicle with Patriots stickers in the windows.   It was one of those moments where u just knew something had to be done.  Never fear!!  We sprung into action!!!
We're a couple of good guys,  so we did what any two good guys would do:  We got the wives involved.  
Extra Kudos to my wife Cassy (MrsMedic).  She was such a trooper.   She fought the hangover and the exhaution and made it through the day!!
I just had to get a picture with this dude.  I know some of us push the envelope of Miami Dolphins Fandom.  Well my friends, whenever you feel like you've crossed the line, please open this post, have a look at this fellow and feel a little better about yourself.   (For the record, it was hot as hell that day)
I know it wasnt shown on tv, but the veterans day events were in full swing.  They had representatives from every branch there.   There were video's being shown on the jumbo tron of players thanking service men and women for what they do.  If i remember correctly Ayodele and Fasano were the two up there.   USA USA USA!!
Ok i have a couple videos i want to share, but im having a problem embedding them into the post.  Check out Ronnie's rushing TD.   Notice the guy behind me....i thought he was Rick Ross.  Then when i panned back, i thought he was bone crusher.  Then i realized he was just a big sweaty dude at the game.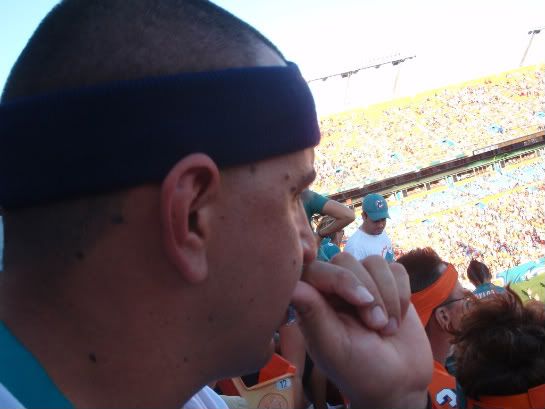 My wife snapped this picture of me in the 4th Qtr.  The game literally became a nailbiter,  i think i ate most of the tips of my fingers.   For the record,  i was  still wearing the headband Ohio!  
Ok,  so finally we come to the game winning field goal.  I didnt know whether to be mad at Henne or not.  He threw that HORRIBLE pick.  But then turned around and got a few good completions on the final drive.  But truth be told, the one player who deserves all the thanks for putting us into position to kick the field goal is Ricky Williams.  Without further ado,  check out the video.
I hope you all enjoyed the pics  and vids,  medics out!