As tomorrow aproaches and the Phins go onto the field with a new starting QB at the helm I wanted to reflect on the last 13 QB's who have tried to live up to #13 Dan Marino's legendary status as a Phins elite QB. We have yet to get there in the last 13 qb's we have tried out.. heres a hats off to our former leader. A leader who you could see in his eyes that he was meant for greatness. One look at him on gameday and you just knew he was THE MAN. Dan Marino. After the jump I wil go on to list the 13 QB's who we have tried to make it work here in Miami since Dan left the Phin's. Some of these QB's did well.. some did not. Enjoy this look back on Phins History.
Dan Marino
Dan Marino was a leader.. a true champion and even though he never won the BIG one he always had that drive.. the fierce competitiveness that made all of us Dolphin fans know he was our leader. When you look at Marino's eyes you always saw a guy who would do anything to win. He had a confidence that not many QB's have today. I know I miss #13. From Dan Marino we went on for the last, what seems like 100 years looking for the next franchise QB who would lead this team to greatness.. heres a list of those who tried, some of which failed horribly and others who were just a few plays away from greatness.
Damon Huard starting for the injured Dan Marino. Huard was with the Phins from 1997 – 2000 and was supposed to be Marino's heir apparent.. it did not pan out. He came in for a short time at the end of Marino's time but never really won the hearts of the fans in South Florida.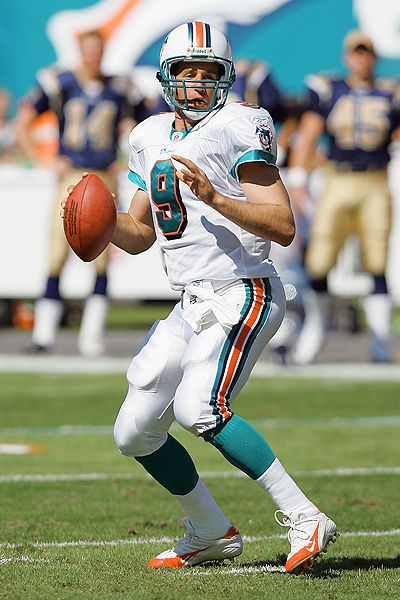 Jay Fiedler was the only other QB outside of CP10 who really had me believing he was for real. He was with the Phins from 2000 to 2004 and while not a great QB he was a good game manager and did put up good numbers overall for Miami while he was here.
Sage Rosenfels was the next in line. He was on the squad for 3 short years from 2002 to 2005. Another QB who I had hopes for who played fair but never won me or many Phin fans over.
Ray Lucas was thought to be the next step.. I mean THE NEXT STEP who would be the greatest QB in Miami since.. well.. Dan Marino. It didn't pan out as planned. I never got on the Lucas bandwagon, he was here just two short years 2001- 2002 and never played better then Fiedler or Rosenfels so he never made the jump past backup really.
In 2003 I had high hopes in bring in Bob Griese's son Brian. I was SURE he was the answer. I was positive we had our next winner at QB. I was wrong and Brian Griese only lasted one season in Miami.
Next up was A.J. Feeley. With the signing of
A.J. Feeley I thought we finally have a young kid who has something. I hoped and prayed he would be the answer to our QB woes and I was wrong, yet again. Feeley was a Phin from 2004 – 2005 and never made enough of an impact to keep around in South Florida. I always loved a QB with #7 though.. just saying...
Gus Frerotte came in the 2005 season and was brought in to watch the store for a year or two while we found our next great QB.. However he never made it to year two.
Next in line to be brought in to "fix" our QB issues was Daunte Culpepper. Coming off a season ending injury I never jumped on this bandwagon. I never really liked Culpepper, however once here I kind of pulled for him to do good. He didn't and was let go the next season after making no impact here In Miami.
Joey Harrington was brought in in 2006 and I had a good feeling about this kid. He looked to have what it would take to bring our QB back up to where it was so long ago. Yes he had a bad start in Detroit but I felt it was the team around him in Detroit and HERE in Miami he would show the world he was a top QB. Alas.. again I was wrong. He ended up here for only 1 season and it was not a good one.
Cleo Lemon.. what can I say about this guy? I never thought he was anything more then a second string and I believe I was right. Maybe it is because I believed all the JB hype.. but Lemon just never hit my sweet spot. He was a Phin 2005 – 2006 then we ditched him… thank god.
So what do we do when we do not have a vet as QB and the young guys are just not what you thought they would be? We bring in Trent Green and give the ropes to him to manage the team while John Beck matures. It didn't last long as Green went down with and injury. I never thought he would end up anything more then another band aid anyways. He was only here one season in 2007
John Beck.. John Beck what can I say about J.B. ? He would have been a great QB if he was handled correctly. I believe he had the arm and the smarts to lead this team into the future. The dipsticks who had the say threw him into the wolves den and that was the end of the J.B. experiment. It's a shame, The J.B. Kid coulda been somebody. Lol
What can I say about CP10? Chad Pennington was brought in at the last minute and was an instant change in how this team felt about itself. CP10 is a leader and a game manager. He will not lose you too many games but did not have the canon arm of Marino. He brought us to an AFC title last season and changed the way this team felt about itself. The leadership this man provided was second to none. Not since Dan Marino was there any QB here who took so much control of this team and earned the respect of every player and so many fans. Long live CP10 you will be missed.
This brings us up to our newest QB Chad Henne. I have a good feeling about this guy. He has a rocket arm, has a brain on top of that neck and as another blog states he is a robot. He has had one of the smartest QB's in the league to mentor him and he just seems to have something.. I do not know what to cal it but hopefully it is called greatness. He is carrying the hopes of many of us fans and with the game coming up tomorrow we are hoping he puts up HUGE numbers. Heres to the 14th QB since Dan Marino. We have gone through 13 since #13 led this team and hopefully the #13 curse is over!
This fanpost was written by one of The Phinsider's registered users.